Celebrate Midsummer in conscious Trafalgar
Los días 22 al 26 de junio se celebra un evento único, con estupendos profesores de todas las disciplinas, en uno de los más bellos parajes naturales de España, a los pies del faro de Trafalgar. ¡No te pierdas esta celebración del solsticio de verano!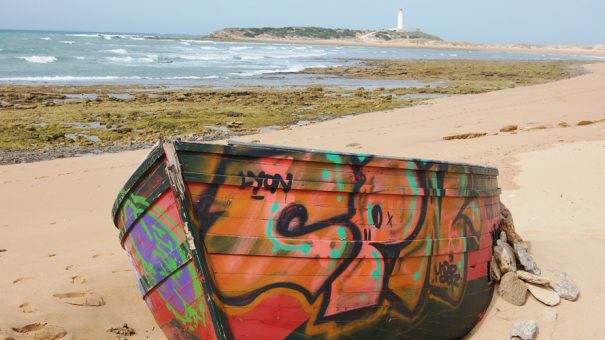 Conscious Trafalgar está basado en dos grandes grupos de actividades: Training workshops in the mornings and shows por la tarde. Estos dos bloques serán realizados entre el 23 y 26 de junio, aunque habrá otras actividades planeadas desde el lunes 20 para los que tengan la suerte de poder participar en Trafalgar Consciente toda la semana.
Adicionalmente habrá rituales, eventos y master classes para que puedas disfrutar de unos momentos muy especiales de conexión y que complementarán los talleres y espectáculos en otras franjas horarias.
Se dispondrá de un pack de alojamiento temático en el Camping el Camaleón, donde se servirá comida vegetariana. Los participantes inscritos en los talleres y que deseen algo más de tranquilidad podrán alojarase en alguna de las casas privadas que se han reservado por la zona.
Cada taller de formación se realizará en casas o centros de la zona de Trafalgar, a no más de 10 minutos en coche de Caños. Se comenzará cada mañana con la formación en el taller que más se ajuste a nuestras necesidades, para por la tarde poder disfrutar libremente del entorno o la gente, y después centrarnos en espectáculos y actividades comunes que nos ayudarán a disfrutar al máximo de nuestra participación.
To celebrate the Solstice
Conscious Trafalgar will be developed in una semana especial del año, donde coinciden una luna llena con el día más largo del año, el solsticio de verano. El lunes 20 y el jueves 23 por la noche se celebrará el solsticio de maneras distintas, pero allí donde se hacía hace miles de años por otras civilizaciones paganas. Simbolizando esa noche el final de la oscuridad y dando lugar a una época donde todo es nuevo y maravillosamente rebosante.
Trafalgar Consciente está diseñado para que puedas disfrutar de tu formación en desarrollo personal con los mejores profesores y maestros, pero a la vez tengas tiempo de relacionarte, disfrutar del entorno y de los espectáculos más especiales. Entre estos espectáculos, se incluye baile, música de distintos grupos vinculados con el mundo consciente como Mirabai Ceiba, en la tarde del 24.
There will be lots of collateral activities where you will have the possibility of receiving terapia, sanación, comprar artesanía, alimentos saludables y todo por un precio razonable.
La organización recomienda que traigas tu coche a la zona para poder desplazarte, pero para los que no lo tengan habrá un servicio de transporte privado a fin de permitinos movernos entre las distintas ubicaciones.
En resumen:
-4 días completos de diferentes corrientes espirituales, música, fuego y baile.
-Cientos de participantes con un interés espiritual, provenientes de muchos lugares del mundo.
-Actividades diversas, terapias y sorpresas cada día.
-Música y espectáculos.
-Los mejores profesores y artistas locales e internacionales.
-Artesanía y comida ecológica.
The payment of all the options will be exclusively for the web Conscious Trafalgar o mediante transferencia bancaria.
Además, la compra de cualquier curso o espectáculo te proporcionará un bono gratuito de 3 meses gratis de acceso ilimitado a Conscious TV para que completes tu formación en desarrollo personal.
Workshops
Vinyasa and Yin Yoga
Overtone singing and voice workshop
Introduction to Transpersonal therapy
Vinyasa Yoga Workshop

Tantra Kaula, Básico sobre Sexualidad Sagrada en Masaje y Bodywork

Therapeutic Yoga and Ayurvedic
Samsara Integral Yoga
The full attention of partner relations

Introducción a las Meditaciones Osho: La aventura de la meditación

Harmonization of Chakras and healing through forgiveness = love

Danza Kundalini: Un Viaje al Centro del Ser

Removing Emotional Blockages, Bhava Shuddhi

Tantra of the heart
Yoga with Silvia Jaén
Movement and authentic voice
Introduction to Transpersonal therapy
International Healthy Cuisine
Espectáculos:
Mirabai Ceiba

Lalita Devi – Danza Mística, Giro Sufí y Poesía

Adama
Music world Tatana
Concert sound tour
More information: https://trafalgarconsciente.es