Music and stories for the awakening
'Música y cuentos para el despertar' es un proyecto que vincula música y relatos con un ideal más allá del entretenimiento: la difusión del arte como herramienta de crecimiento interior y de cambio. Presentación en Madrid, 15 de abril a las 20.00 horas.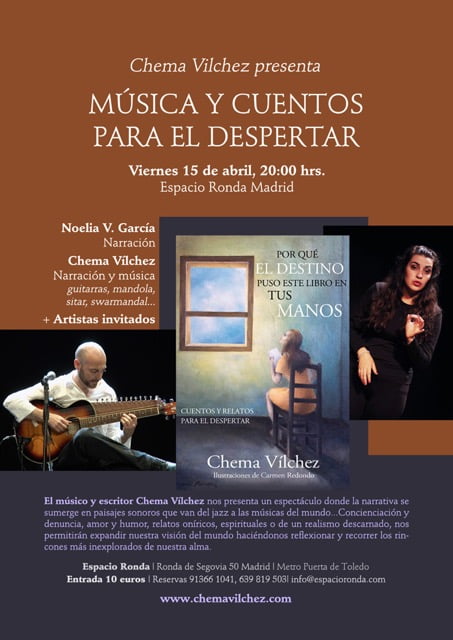 El músico y escritor Chema Vílchez nos presenta un espectáculo donde la narrativa se sumerge en paisajes sonoros que van del jazz a las músicas del mundo, conjurando temores, sacudiendo el desánimo, impregnando nuestros recuerdos de emociones positivas e invitándonos a salir de las preocupaciones para reencontrarnos con la belleza, desempolvando ese mundo interior, tantas veces adormecido, que nos impide abrazar la felicidad.
La representación tiene como hilo argumental algunas de las historias de "Por qué el destino puso este libro en tus manos", donde el autor nos descubre una amalgama de imprevisibles circunstancias y personajes inolvidables ("Amina" que trata el drama de una mujer afgana, o "Pateras", la historia de un chico que huyendo de la guerra en África cae al mar; "A través del cielo" un relato de superación y esperanza. También la epopeya del insigne profesor Oldton descubriendo la forma de acabar con los males del mundo, lo que sucede un minuto antes de morir, el encuentro con un extraterrestre y muchas otras historias que, conectadas a los convulsos tiempos que vivimos, se convierten en un ineludible espejo vital. Concienciación y denuncia, amor y humor, relatos oníricos, espirituales o de un realismo descarnado, nos permitirán expandir nuestra visión del mundo haciéndonos reflexionar y recorrer los rincones más inexplorados de nuestra alma. Bien es conocido el poder de la palabra y de la música, pero cuando ambas se funden son capaces de llegar a la dimensión más profunda de nuestra personalidad. Por ello, te esperamos en "Música y Cuentos para el Despertar"
Narración: Noelia V. García, María José de la Rosa y Raquel Gribler.
Narración y música (guitarras, sitar, mandola, swarmandal,…) Chema Vilchez + Artistas invitados.
Space round está en la calle Ronda de Segovia 50, Madrid (Metro Puerta de Toledo, Autobuses 3, 23, 35, 41, 148, C1 y C2 / Tren Cercanías, Pirámides).
Price: €10
Reservations: Teléfono 91 366 1041, móvil 639 819 503 o correo electrónico: info@espacioronda.com