Thought and its power
La misión de Swami Vishnudevananda fue difundir el yoga en nombre de su maestro, Swami Sivananda. Fundó los Centros Internacionales de Yoga Sivananda en 1957 y estableció la institución True World Order, la cual promueve la paz universal. Superar las limitaciones internas y externas era el mensaje de sus numerosas misiones de paz. Es una colaboración del Centro de Yoga Sivananda de Madrid.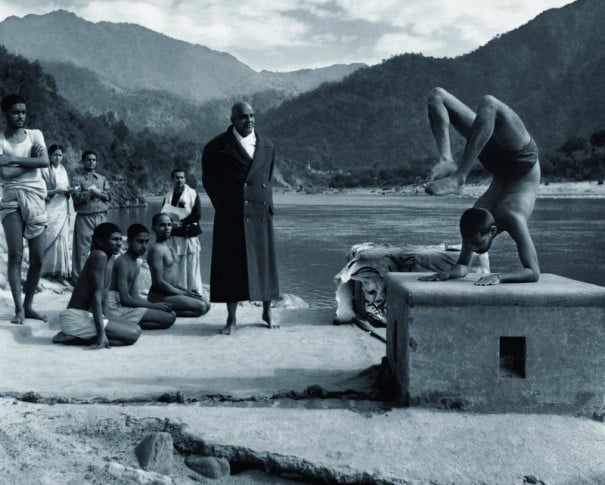 (En la foto: Swami Sivananda comtempla a su alumno Swami Vishnudevananda)
Cada pensamiento te afecta.
Gurudev Sivananda escribió sobre este tema en "Thought and its power".
Un mal pensamiento tienen tres efectos distintos.
Primero que nada le afecta negativamente a la mente subconsciente de quien lo envió.
Luego afecta a la persona hacia la que es dirigido.
En tercer lugar se une con otros pensamientos negativos de otros seres humanos formando nubes,
nubes negras,
con un mismo nivel vibratorio.
Pero si tienes una mente pura,
si tu pensamiento es positivo,
si repites tu mantra y meditas,
desarrollas una armadura psíquica.
Tu pensamiento no se sintoniza con esos pensamientos sino que rebotan.
Tú atraes un pensamiento de una naturaleza específica,
porque estás en la misma frecuencia de onda.
Si tu longitud de onda es muy alta,
estos pensamientos negativos no se unirán a los tuyos.
But if your vibrations are low
y vives entre personas negativas,
cuyas vibraciones son bajas,
serás afectado por sus pensamientos.
Book Upadesa. Teachings of Swami Vishnudevananda. Available in the Centre International Sivananda Yoga Vedanta in Madrid.
Información facilitada por el Centro Internacional de Yoga Sivananda Vedanta de Madrid.Tel.:913615150
On Facebook centro.yoga.sivananda.madrid
On Twitter @yoga_sivananda