The Tibetan Book of life and death
Una de las obras budistas fundamentales acerca de la existencia, la reencarnación, la vida y la muerte.
The Tibetan Book of life and death
es una obra magistral del budista tibetano Sogyal Rimpoché, quien, relacionado ampliamente con la cultura occidental, consigue traducir conceptualmente muchos de los rituales y principios filosóficos practicados durante siglos exclusivamente por los monjes budistas y por sabios de Tíbet.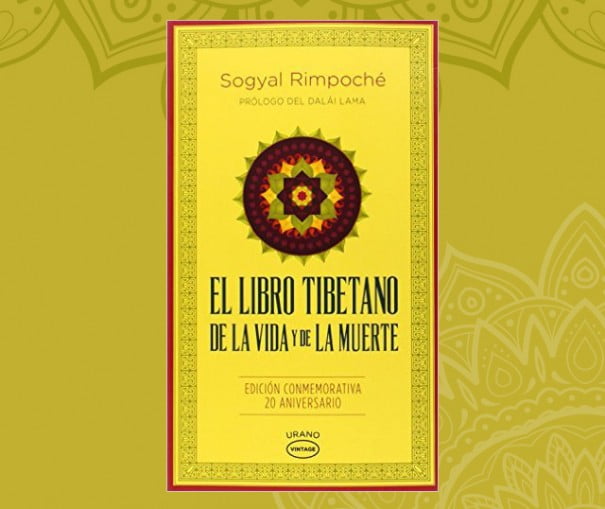 Dentro de los muchos cambios que ha sufrido el mundo en la zona de Tíbet durante el siglo XX, uno es la apertura que ha tenido el conocimiento guardado desde siempre en los templos. El éxodo al que ha sido forzado gran parte del pueblo tibetano por los chinos hacia India y occidente, ha creado un nuevo universo conceptual y flujo de información.
El Dalai Lama, quien escribe el prólogo de esta obra, ha sido la figura central de esta apertura hacia Occidente que, al igual que otros monjes de gran sabiduría, difundió sus prácticas por el mundo. Sogyal Rimpoché, de la misma manera, lo ha hecho y lo hace con la seriedad y la profundidad propias de alguien de su experiencia y recorrido espiritual.
In The Tibetan Book of life and death este Maestro, que además de su conocimiento como budista ha realizado estudios universitarios en India y Cambridge, explica los fundamentos de algunas técnicas de meditación esenciales para los tibetanos desde siempre, como Rigpa, una de las formas que toma la meditación budista tibetana para conectar con la fuente y trascender el mundo de los sentidos, a través de la compasión y la experiencia que da sustento a la sabiduría.
Sogyal Rimpoché said a large amount of experiences and anecdotes that have taken place in the thin and at the same time eternal límite que separa la vida de la muerte. Y en ese límite la sabiduría ancestral, el trabajo a consciencia de los sabios, ocurre ese trance único e irrepetible en el que es posible salirse de la rueda de la reencarnación, desapegándose a consciencia del mundo de la materia.
The Tibetans have the famous sacred library Tibetan Book of the dead que este Maestro budista utiliza como plataforma de lanzamiento para sus propias conclusiones y prácticas, que se ocupa de difundir por el mundo en la actualidad.
El autor sostiene que aprender los pasos de la muerte, relacionarnos con ellos de manera consciente, lose the fear al trance que significa cambiar de estado, es una gran manera de valorar la vida y utilizar el tiempo y los recursos del paso por la tercera dimensión como el gran momento de aprendizaje que es, para terminar en un trance de iluminación hacia el viaje de regreso a la eternidad.
Desde la proximidad con el hecho de la muerte, el aprendizaje de la cercanía de los seres que transitan ese trance y la compasión como puente para alcanzar el sentimiento del otro, a lo largo de la obra, Sogyal Rimpoché describe con exactitud los pasos para una "buena muerte", fundamentándose en la experiencia ancestral, en la sensibilidad para comprender lo que no es manifestación material y sobre todo confiando en la intuición, esa guía que permanece con la entidad de luz que encarna de vida en vida en el cuerpo.
Por este motivo, todo aquel que quiera perder el miedo a la muerte, que necesite entender el proceso por el cual está pasando un ser querido o superar una pérdida, quien quiera adentrarse en el conocimiento de aquello que sólo puede ser aprehendido desde la comprensión de la unidad con el Todo, tiene en el Tibetan Book of life and death una de las herramientas más completas para comprender el vasto universo de la existencia e iluminar el camino hacia el fin de una encarnación o vida sobre la tierra.
Paul Rego. Profesor de Yoga. Terapeuta-Masajista Integral. Diplomado en Salud Ayurveda (Medicina de la India)