Chema Vilchez speaks of "Why fate put this book in your hands"
The musician and writer Chema Vilchez has just published a book of short stories entitled Why fate put this book in your hands. We spoke to him of their motivations and the content of the book, which is beautifully illustrated by Carmen round and edited by Mandala.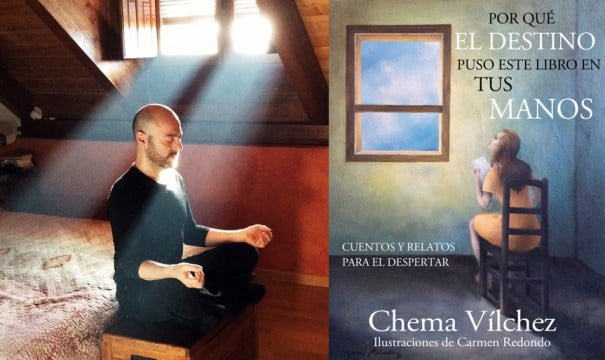 "The motivation to publish these stories are based on the idea of sharing experiences and reflections - explains Chema Vilchez, musician, writer and yoga teacher-. In fact there was a previous attempt to create a book. All the stories have emerged of natural, spontaneous way and I tried to write them in the most faithful manner."
It's a total of 29 stories that it correspond to a lunar cycle. "In principle, I would suggest the idea of choosing a story before surrender to sleep and let your seeds germinate during the night. They are stories with multiple readings, different drawings and messages that will slowly be revealing."
He has made the illustrations Carmen Redondo, great artist, which uses a visual language that is extremely deep and enormous creativity. The quality of the edition of Mandala is attached for a shiny final result.
Do you have the stories of the book some bonding with yoga? "I am yoga practitioner from a young age - adds Chema Vilchez, and yoga books first appeared on my shelves very soon." I remember that child had two posters at my bedside, one was Bruce Lee, the other of a Yogi. I want to say that yoga and meditation are part of my life for so long that my vision of the world is inevitably under its influence. That is not surprising from composing music, playing, writing, or Cook all having as an ingredient in a little bit of yoga".
The stories the book is described very different circumstances and situations linked to the present. For example Amine It is the drama of an Afghan woman; Pateras, the story of a boy who, fleeing the war in Africa, falls to the sea; Specks of dust recounts the experiences of a man who goes unnoticed to the world; in The speech, a politically, quite honest candidate for a change, wins elections; The master of Tantra It is starring a kinky yoga teacher who uses his supposed knowledge to seduce her students... "The subject matter is varied, symbolic and have different levels of understanding - says the author-. It really is a book for adults, but there are young people who are reading them and parents sharing them with their children and that is something that seems wonderful to me as a way of educating in values."
And what is the title of? Why fate put this book in your hands? "A simple phrase, an experience, an instant decision consciousness, can change our lives forever." Those lessons never are the result of chance. You get does not touch you, you get, reaches or on the contrary, do not feel nothing because perhaps it is not your time. The original manuscript of the book passed through several hands before being published and most of the people who read it told me the transformer effect that had produced them. So I think it is appropriate to emphasize the suggestion of dive into reading and feel. "Only then the reader will understand the reason of the title".
Bleak cultural landscape
Chema Vilchez, multifaceted artist and sensitive person, is very dissatisfied with what it offers us as culture today: "currently much of the artistic expressions are made as products of marketing, paying tribute to the vulgarity to frivolity, in order to entertain the people in the grossest sense: making hang out mechanically" without providing a look thoughtful, lucid and sensitive to the world or to your own life. It is the problem of to confuse culture with entertainment".
Especially critical is Chema with respect to intentions that are hidden behind this phenomenon. "There is an overwhelming, even totalitarian, prevalence of the contents that we turn from ourselves. We have turned us from culture in capital letters, it has been created the concept of 'product' with respect to the arts, and that brings back the evil intention. Put human creation in the service of wasteful consumption, money, power or success, without another objective, find me appalling. It's something that distances us from freedom inside of honesty, beauty, and wisdom."
Some stories from the book of Chema Vilchez talk about it. "The best work of art that can create a human being is his own life, especially if you're used to connect with the innate beauty in nature, in people, in animals, in the universe, feel the pain of others as their own to try to alleviate it. Feel the joy of others as their own and enjoy with everything good that happens to every moment. Life is a miracle, but for some reason we strive to create conflicts. Look what is happening in Syria, Iraq and so many other terrible things in the world and here in our country, what we see daily in the news, we regret a while and another thing... There cannot be a truly human attitude and of course Yoga if we don't rebel and commit internally to transform reality. I hope that someday we will be humble enough to awaken and bring out the only pending revolution, the of raise our level of consciousness to include others in it. That is the real yoga. It is not an easy task, nothing more complex than transform and evolve, but I am convinced that this is the meaning of life: We come to the world to love and learn, and which deviates from this does more than suffering and create suffering".
Where to buy the book
Mandala Ediciones has distribution in bookstores of all Spain, and is also available as e-book at Amazon, Ibooks Store Apple and Mandala website or on the website of the author: http://www.chemavilchez.com
Presentation: The project "Music and stories for the Awakening"

Chema Vilchez will soon be representing by all Spain tales with narration and music in a project called "Music and stories for the Awakening" in addition to the performance, at the end there will be a chat with the audience so they ask as they wish or simply to express their emotions and ideas.

The premiere will be in Space round, on Friday, April 15, at 20:00.

Chema Vilchez He graduated with honours at the Musicians Institute in Los Angeles, California. Specialties in modern harmony, arrangements and composition, classical guitar, flamenco and electric guitar. By the Foundation Sivananda Yoga teacher.

Other books: The dream of the Navigator and other poems (1995), Yoga, reborn to the vine(2006)

More information: