National meeting of Yoga - 2016 Cooplanet
Tiene como objetivo aprender y vivir el yoga en grupos. Abierto a principiantes y practicantes avanzados, puede crear ricas interacciones de seres humanos capaces de recibir o aportar, desde una visión actual y universal, propuestas interesantes en el campo del Yoga. Comparte información: Área YugYoga de la RedGFU & Coplanet.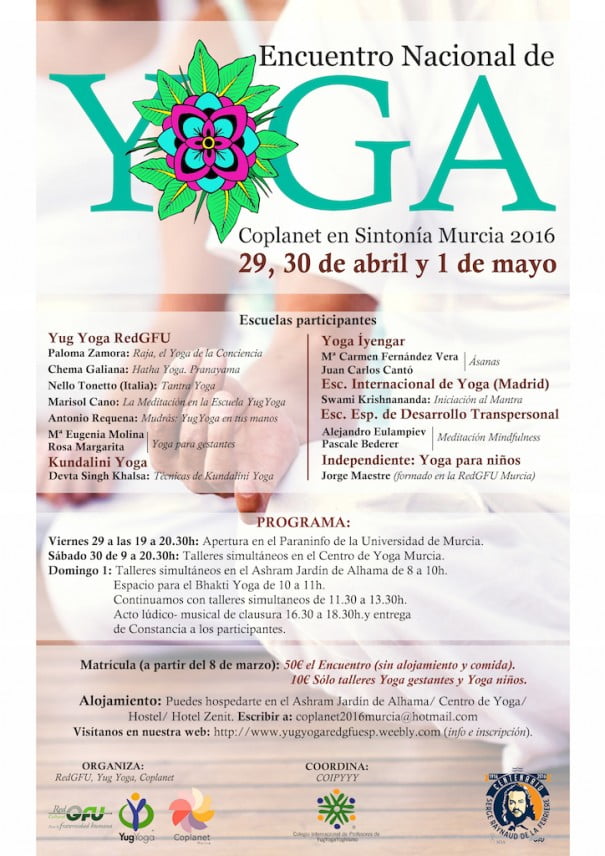 This year plays in Murcia, en torno a la fiesta del 1º de Mayo (29 y 30 de abril y 1 de mayo).
Se dispone de más de 13 talleres para elegir los que necesite cada cual, impartidos por diferentes escuelas de Yoga que comparten el principio de fraternidad humana.
Compartiremos también mesas redondas y actos lúdico-artísticos. Arriba puedes ver el programa y participantes.
Through these Meetings se pretende inter-relacionar a individuos y escuelas que, partiendo de la observación de la situación real y presente de la especie humana, quieran practicar con técnicas y proyectos útiles para mejorar la salud y la conciencia atenta. This was the proposal of the Master Serge Raynaud de la Ferriere Yoghi and his lineage. This year 2016 emphasis on celebrating this proposal at the end of the 1st centenary of his birth.
La clave Coplanetaria aplicada al Yoga consiste en generar encuentros entre personas que buscan, investigan y se experimentan a sí mismos a través de:
La experiencia profunda de sí mismo y la identidad humana. Esto es yoga.

Ética individual y estrategia de acción conjunta, generando encuentros de seres humanos cuya dimensión ética trate de ir más allá del interés propio, enriqueciéndose con aportaciones mutuas de otros individuos y de otras escuelas. Esto es shanga.

La estética y el arte de vivir, generando capacidad de innovación y continuo replanteamiento y apertura; buscando un equilibrio dinámico entre la acción y la introspección.

El conocimiento y el rigor de la investigación en yoga generando grupos que trabajen con las nuevas y emergentes condiciones en que se encuentran las disciplinas del Yoga.

En suma, co-mpartir prácticas para generar más co-nsciencia y más co-operación a nivel planetario, sin distinciones de edades, razas, credos, clases sociales o culturas.
Área YugYoga de la RedGFU & Coplanet

Inscriptions in www.yugyogaredgfuesp.weebly.com
Más información sobre Coplanet/yoga 2016 en:
Email coplanet2016murcia@hotmail.com
Telefono 653 373838
*Sobre la claves coplanetarias aplicadas a diversas actividades humanas puede encontrar ideas en www.coplanet.net y en www.redgfu.es/redes