Recetas vegetarianas: Col esparragada
We share great and sanisimas recipes blog 'Eat to live'. Type and kitchen Gauri, Professor of vegetarian cuisine of the Sivananda Centre of Madrid and the affiliated Centre Sivananda Vedanta of Granada.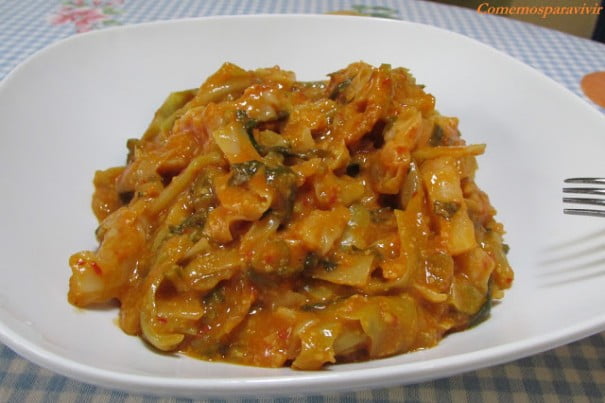 Esta es una receta tradicional de Andalucía y una forma muy popular de preparar las verduras. Para mí, una de maneras tradicionales de preparar las verduras que las respetan. Por eso la traemos, por supuesto con algunos ajustes para la dieta del Yoga.
Con esta salsa se cocinan espárragos y de ahí, viene su nombre. También se pueden cocinar judías verdes y las exquisitas Espinacas con garbanzos, una de nuestras primeras recetas.
Ingredientes (4 personas)
600 g de col cortada en juliana
1 cucharadita de semillas de comino
½ teaspoon ground coriander
½ cucharadita de pimentón dulce
1 tablespoon grated fresh ginger
2 Tablespoons extra virgin olive oil
1 teaspoon salt
Para la Salsa
1 pimiento rojo seco, corneta o cuerno de cabra, sin semillas.
24 almendras crudas sin piel
1 ò 2 rebanadas de pan del día anterior
2 cucharaditas de zumo de limón
½ guindilla (opcional)
Preparation
En una sartén de fondo grueso. Poner las dos cucharadas de aceite de oliva y freír las semillas de comino ½ minuto. A continuación añadir el cilantro molido, el pimentón, el jengibre rallado y la col partida. Remover bien para mezclar todos los ingredientes.

Poner el fuego bajo y tapar, cocinar hasta que la col ablande, removiendo de vez en cuando. Mientras preparar la salsa.

Cuando la col esté blanda añadir la salsa y un poco de agua si ves que es necesario.Rectificar de sal y dejar que hierva todo junto unos 5 o 10 minutos más, hasta que la salsa coja color y los sabores se mezclen.
La salsa la puedes preparar friendo previamente los ingredientes en aceite de oliva. O tostándolos en el horno como indicamos en la receta de Espinacas con garbanzos.
Para la col los hemos frito y así el plato queda un poco más contundente.
Preparar la salsa:
Freír en un poco de aceite las almendras, el pimiento rojo seco y la guindilla si la usas. Reservar y freír en el aceite restante el pan.

Poner todos los ingredientes en una batidora junto con el jugo de limón y un poco de caldo vegetal o de agua. Batir todos lo ingredientes hasta formar la salsa.
More recipes: http://comemosparavivir.blogspot.com
Yoga Sivananda Vedanta Granada-afiliado. T 660288571