Gran Canaria Yoga Conference
On 4, 5 and 6 March 2016 be held an International Congress of Yoga in Gran Canaria, which aims to create a meeting for all those practitioners seeking to deepen in their daily practice in the best conditions imaginable.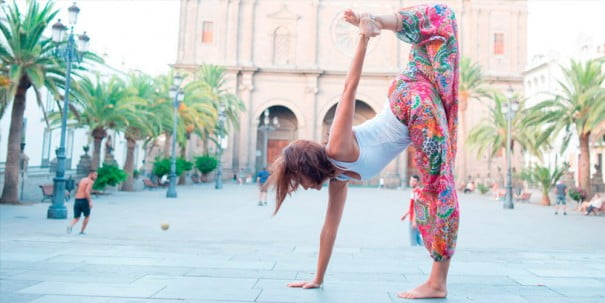 -Keep the organizers - intends to create a learning experience within a secure framework, inspiring and transformer which allows each participant to deepen and connect with their potential through the Yoga, meditation, sacred songs, a healthy and balanced diet and coexistence with other people with the same interests and affinities.
The beauty of the island, its mild climate, the location of its capital, Las Palmas de Gran Canaria, between two bays and two beaches: las Canteras and las Alcaravaneras, ensure a memorable for any lover of yoga and life.
It will be a meeting point where can you live with great teachers who will help to develop and refine these practices for the integral development of any person.
You can read more here about the Gran Canaria Yoga Conference:
Innovations in Facebook
The data on the web: http://www.grancanariayogaconference.es/es/
And if you like one day to take class with all teachers and at all times, from 7 in the morning until 10 o'clock,! can do it!
More than 30 professors and international musicians, among them: Edward Clarck, Patrick Beach, David Kyle, Yiannis Andritsos, Antonia Ka, Mindy Bacharah, Jacopo Ceccarelli, Paul Hardinam, Lety Lozano, Olivia Tüscher, Nataraja Martinez, Maite Garbizu, Adela Sosa, Chantal Anandamaya. Luis Miguel, Hissora Schamann, Alberto Jorge, Libby Hargreaves, Sara Fanelli, Manu Navarro, Patricia Sanagu, Cristina Bermudez, Emma grace, Eva Aguirre, Ravi Ramoneda, Turkantam, Jaya Deva, Jai Yopi, Vamsi Das, Nathan Reder, Ricardo Ferrer... (You can see their photos and references professionals here)
The program
-Friday March 4
7:00-7:45 Ceremony - opening
8:00-10:15
Dharma Yoga - Yiannis Andritsos
Power Yoga Fusión- Sara Fanelli
Hatha Yoga – Lara Narayani
Yin Yan Yoga – Karla Vergaray
10:30 – 12:45
Tripsichore Yoga – Edward Clark
Taller Handstand- Nathan Reder
Anusara Yoga – Patricia Sanagu
Acro – Eva Aguirre
13:00 – 15:15
Alignment Flow – Mindy Bacharah
Yoga Works – Paul Hardiman
Kundalini Yoga – Sarajbit Kaur
Yoga niños- Cristina Bermúdez
Kirtan – Shankara Dayal
15:30 – 17:45
Vigorous Vinyasa – Patrick Beach
Yin Yoga – Hissora Schamn
Nidra – Chantal
Acro – Jacopo Cecarelli
Taller Percussion – Ross Angell
18:00 – 19:45
Yoguea ArtFlow – Antonia Ka
Tripsichore Vinyasa Flow- Lety Lozano
Hatha Raja – Olivia Tüscher
Be Slow Yoga – Atmaran Montes
Kirtan – Jaya Deva
20:00
Concierto – Ravi Ramoneda
–Sábado 5 de marzo
7:00-7:45
Surrender Flow – Luis de Miguel
8:00-10:15
Annukalana Yoga – Jacopo Ceccarelli
Yoga Works – Paul Hardinam
Living Yoga – Emma Gracia
Taller Handstand – Nathan Reder
Kundalini Yoga Chants – Sarabjit Kaur
10:30 – 12:45
Alignamnt Flow – Mindy Bacharah
Hatha Raja Yoga – Maite Garbizu
Power Intensivo – Alberto Jorge
Shakti Path Dance – Nataraja Martinez
Cuerpos de Luz – Lara Narayani
13:00 – 15:15
Yogea Art Flow – Antonia Ka
Ashtanga Progressive – David Kyle
Instituto Europeo de Yoga – Ricardo Ferrer
Acro – Patricia Sanagu
Kirtan – Jacopo Ceccarelli
15:30 – 17:45
Tripsichore Yoga – Edward Clark
Hatha Raja – Olivia Tüscher
Taller: aprendiendo ajustes – Ricardo Ferrer
Acro – Eva Aguirre
Kirtan – Yopi Jai
18:00 – 19:45
Flow Avanzado – Patrick Beach
Dharma Yoga - Yiannis Andritsos
Tripsichore Vinyasa Flow – Lety Lozano
The Yoga of Dance – Hari Bans Kaur
Taller Hanuman Chalisa – Jaya Deva Kirtan
20:00
Concierto – Turkantam
–Domingo 6 de marzo
7:00-7:45
Surrender Flow – Luis de Miguel
8:00-10:15
Vigorous Vinyasa – Patrick Beach
Fordward Bends – Adela Sosa
Hatha Raja – Olivia Tüscher
Living Yoga – Emma Gracia
Kirtan – Deva Kumar
10:30 – 12:45
Annukalana Yoga – Jacopo Ceccarelli
Dharma Yoga Nidra – Yiannis Andritsos
Pure Yoga – Libby
Kundalini Yoga – Sarabjit Kaur
Kirtan – Yopi Jay
13:00 – 15:15
Tripsichore Yoga – Edward Clark
Shakti Path Dance – Nataraja Martínez
Bhakti Vinyasa – Deva Kumar
Hatha Raja Yoga – Maite Garbizu
Taller Kirtan – Ravi Ramoneda
15:30 – 17:45
Yoga Works – Paul Hardiman
Yogea Art Flow – Antonia ka
Awa Yoga – Manu Navarro
Acro – Eva Aguirre
Kirtan – Shankara Dayal
18:00 – 19:45
Rocket Principantes – David Kyle
Tripsichore Vinyasa – Lety Lozano
Eyes Closed – Hissora Schaman
Shamanic Yoga – Ricardo Ferrer
Kirtan – Jaya Deva
20:00
Concierto – Vamsi Das
–Lunes 7 de Marzo
10:00 – 18:00
Ashtanga Rocket Vinyasa - David Kyle
Yoga Thai Massage - Paul Hardiman
Acro Yoga - Patricia & Deva
To contact

Luis de Miguel- Ganeshpuri Yoga Center
T + 34 678 349 642 / info@grancanariayogaconference.es
Organised by: A.C. Yoga Planet