Last places! Yoga in education, to transmit values to children and young people
El Yoga dispone de herramientas que pueden proporcionar a niños y adolescentes mayor equilibrio y seguridad en sí mismos en la vida cotidiana. ¿Y sabes que puedes aprenderlas haciendo un curso de Yoga en la Educación? Lo ha desarrollado la Escuela Internacional de Yoga, buscando ahondar en la transmisión de los valores y fundamentos de la enseñanza del Yoga a niños y adolescentes. ¡Últimas plazas!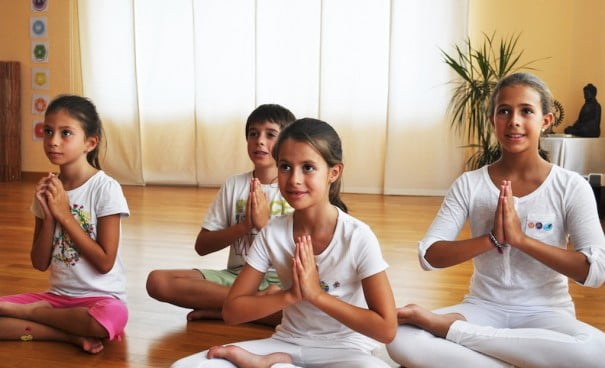 La sensibilización, el despertar de los potenciales personales, la toma de conciencia y, por supuesto, la diversión y la diversificación, son algunos de los aspectos que derivan de los recursos que permiten al educador, profesor de Yoga o experto, dinamizar una propuesta coherente de Yoga y dirigirse a este colectivo tan importante, ofreciendo un mayor bienestar y los espacios que posibilitan crecer y conocer el mundo desde la comprensión, la aceptación y el autoconocimiento.
El curso propone un nuevo enfoque en la enseñanza del Yoga a los niños y a los adolescentes. Se muestran herramientas para crear y facilitar sesiones educativas, creativas, divertidas y evolucionadas de acuerdo a los nuevos tiempos. Es también un curso para profundizar en la propia visión, como adulto, del mundo de la infancia.
Después del éxito obtenido en anteriores convocatorias, la Escuela Internacional de Yoga (EIY) vuelve a impartir el Curso de Especialización Yoga en la Educación, dirigido por Joaquín Castaño, en las sedes de la EIY en Madrid y Santiago. El curso se imparte en cuatro módulos con fecha de comienzo del 30 de enero 2016 en Madrid (abierto el plazo de inscripción en Madrid).
La Escuela Internacional de Yoga ofrece Cursos de Especialización, buscando profundizar en aquellos temas que puedan aportar conocimientos de interés a profesionales del Yoga y disciplinas afines, y con el objetivo de completar la Formación del Profesor de Yoga.
For more information and reservations:
http://escueladeyoga.com/Yoga-En-La-Educacion.html
T 91 416 68 81 – 648 078 824 – 91 309 36 07. C/ Fuencarral 134 -entrada Alburquerque- 28010. Madrid