Vegetarian recipes: coconut mung beans
We share great and sanisimas recipes blog 'Eat to live'. Type and kitchen Gauri, Professor of vegetarian cuisine of the Sivananda Centre of Madrid and the affiliated Centre Sivananda Vedanta of Granada.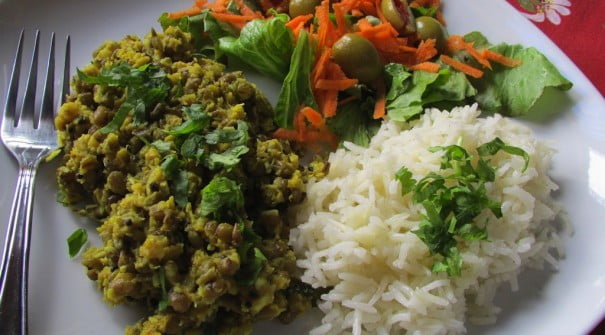 Esta receta la hemos sacado de El libro de Yoga y Cocina. Alimentos Vegetarianos para el cuerpo y la mente de los Centros Internacionales de Yoga Sivananda Vedanta.
Es una receta deliciosa, fácil y rápida de preparar. Las judías mungo tardan entre 30 y 45 minutos en cocinarse. Es un plato que sirve tanto para el día a día como para una comida festiva. Y además es un excelente plato para invitar a las personas no vegetarianas.
Ingredients (4/6 people):
200 g de judías mungo

700 ml de agua

75 g de coco deshidratado

2 cucharadas de aceite

1 cucharadita de semillas de mostaza

5-6 hojas de curry ( o 2 hojas de laurel partidas)

¼ teaspoon turmeric
1 teaspoon salt

1 cucharadita colmada de comino molido

1 cucharadita de hinojo molido (opcional)
Preparation:
Poner las judías en una cazuela con el agua. Llevar a ebullición, cubrir y cocer a fuego lento durante 30-45 minutos, hasta que las judías se ablanden. Mientras, remojar el coco en unos 50 ml de agua caliente, la suficiente para cubrirlo.

Calentar el aceite en una sartén. Añadir la mostaza y cocer a fuego vivo hasta que las semillas "salten". Exprimir el coco del agua de remojo y ponerlo en la sartén. Saltear a fuego suave 2-3 minutos. Agregar las hojas de curry, la cúrcuma y la sal y remover bien durante un minuto.

Escurrir el agua de las judías e incorporarlas a la mezcla. Remover a fuego lento durante dos minutos y añadir el comino y el hinojo. Trasladar a una fuente y servir.
Sugerencia de presentación:
Puedes tomar esta receta acompañada de arroz y ensalada como mostramos en la foto de abajo o sólo con verduras.
More recipes: http://comemosparavivir.blogspot.com
Yoga Sivananda Vedanta Granada-afiliado. T 660288571