Meditation to relieve stress
Se ha comprobado que la meditación y el yoga son herramientas útiles para restablecer el equilibrio interior y la claridad y la paz mentales. No pierdas esta oportunidad de experimentar una poderosa técnica de meditación tal como la enseña la internacionalmente reconocida líder humanitaria y maestra espiritual Amma.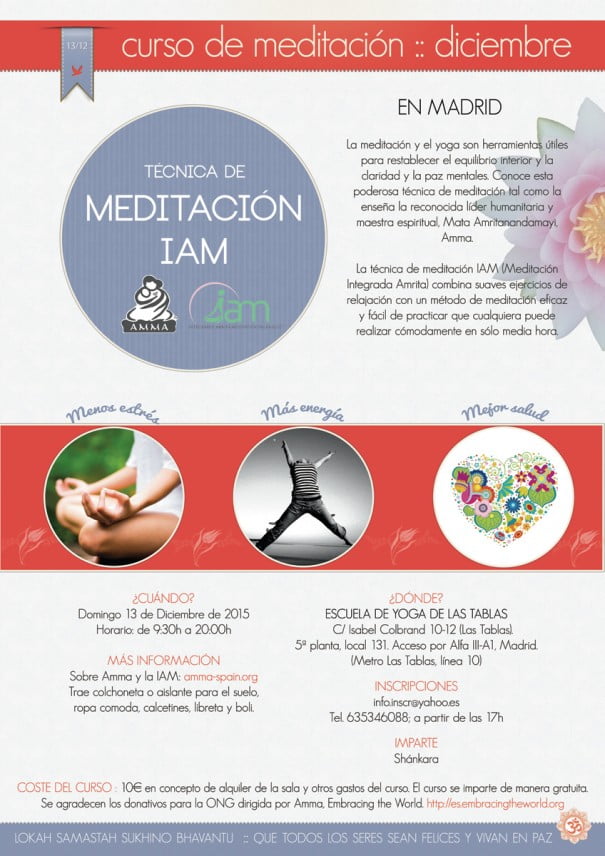 Esta técnica se conoce como Técnica Integrada de Meditación Ámrita (IAM). Un Curso de iniciación tendrá lugar el domingo 13 de diciembre 2015, de 9:30 a 20h, en la Escuela de Yoga de Las Tablas (C/ Isabel Colbrand 10-12 -Las Tablas-. 5ª planta, local 131. Madrid).
IAM meditation technique combines gentle relaxation exercises with a method of meditation effective and easy to practice that anyone can perform comfortably in only half an hour. Some benefits:
It reduces stress and anxiety
It increases energy
It reduces anger and frustration
It improves health and well-being
Increases the productivity and it efficiency
You can enjoy a deeper connection with the own be
Taught by Shánkara (Javier Ruiz Calderón).
Requisitos para participar: ser mayor de 18 años o de 16 y autorización de padres o tutores; compromiso escrito de no divulgar los contenidos del curso (se firmará el día del curso).
Participación en los gastos: 10€ (alquiler de sala y otros gastos del curso). El curso se imparte de manera gratuita.
Information/registration: info.inscr@yahoo.es (T 635346088; a partir de las 17 hs). Imprescindible escribir para confirmar que hay plaza y recibir las instrucciones para inscribirse.
Places are limited. Necesaria inscripción previa
Más información sobre la técnica JA.:
Amma website in Spain: http://www.amma-spain.org
Social work of Amma http://es.embracingtheworld.org/