Llegan los Kirtans de Brenda McMorrow a España
La gran acogida del público en enero de 2015 en Barcelona, ha creado gran expectación para volver a presenciar el animado espectáculo de la artista canadiense. Brenda McMorrow estará presentando su nuevo disco

Mi corazón se inclina ante ti

(

My heart bows down to you

) en Madrid el 18 y 19 de noviembre, en Girona el 20, en Barcelona el 21 y en Vic el 22 de este mismo mes.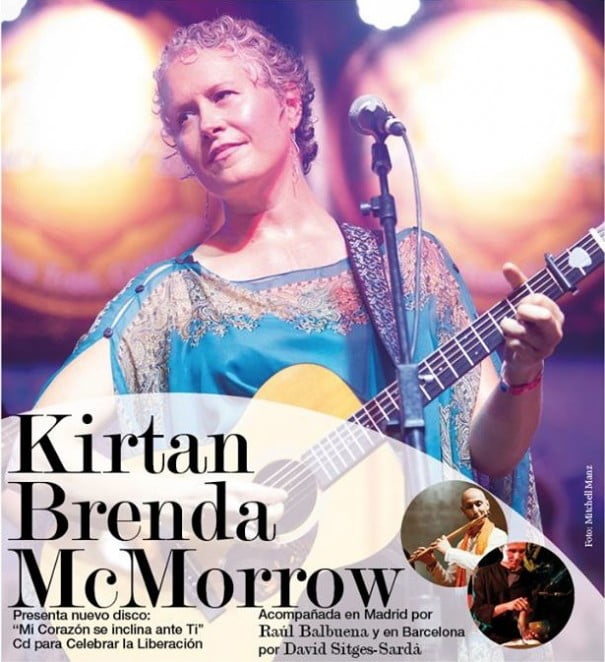 Brenda McMorrow realizó durante 15 años una carrera musical rica y diversa: desde el folk, pasando por el jazz hasta el bluegrass. Actualmente, y debido a una profunda devoción por el descubrimiento y la celebración de nuestro verdadero ser a través del poder del sonido, viaja por todo el mundo para compartir su combinación única de inspiradas melodías folk, ritmos del mundo y cantos devocionales sagrados de la India.
Este cambio sucedió cuando Brenda escuchó por primera vez un canto sánscrito mientras asistía a un Kirtan en 2004. En ese momento se dio cuenta que su viaje musical le estaba llevando hacia un nuevo rumbo.
Brenda forma parte de la prestigiosa discográfica White Swan Records, reconocido sello de Colorado que engloba artistas de alto perfil en el mundo del Yoga como la mundialmente conocida Deva Premal.
Ha colaborado con el célebre violoncelista, ganador de un Grammy David Darling y también con los más apreciados músicos de Kirtan en EEUU: Jai Uttal, Shyam Das, Wah!, David Newman, Girish and Dave Stringer. Invitada a participar en festivales de Bhakti Yoga y eventos relacionados en Norte América, Europa y Asia, cuando no se encuentra en el camino del Bhakti, Brenda reside en la bonita ciudad de Guelph, en Ontario (Canadá).
A Brenda, con su voz y su guitarra acústica, le acompañan músicos invitados (percusionistas, cantantes, bajistas, guitarristas, etc., de todo el mundo) y juntos interpretan cantos devocionales y Kirtan ("llamada y respuesta"), invitando al público a unirse a ellos generando una maravillosa conexión sonora llena de energía.
La gira en España
En noviembre Brenda McMorrow llega con toda su fuerza y entusiasmo a una gira que la llevará a Madrid 18 y 19, Girona 20, Barcelona 21 y Vic 22, presentando su nuevo disco Mi corazón se inclina ante ti (My heart bows down to you).
En Barcelona, le acompañará David Sitges-Sardà. músico multi-instrumentista que ha formado parte en diferentes proyectos, como la compañía músico-teatral Residual Gurus, el grupo de canto armónico MuOM and Luis Paniagua Quartet, entre otros. También compone música para películas, video danzas y documentales.
It organizes: Prana Ananda
https://www.facebook.com/prana.ananda.9

Where: Casa del Tíbet. c/Rosellón 181. Barcelona

Venta entradas anticipadas & Información: batec.conciertos@gmail.com / T (+34) 629 144 297 – Susana

More information sobre Brenda McMorrow en: www.brendamcmorrow.com

Vídeos oficiales:
https://youtu.be/u2ERRgP7xFs
https://www.youtube.com/watch?v=E0UhnoVlQBc