Course of introduction to Sanskrit
Conocer más de cerca esta lengua nos abre la puerta a los mensajes llenos de sabiduría que se transmitieron a través de ella. Es también el lenguaje que nos acerca a nuestra íntima esencia interior. Un Curso de Introducción al Sánscrito claro, ameno y asequible comienza el 17 de octubre en Madrid.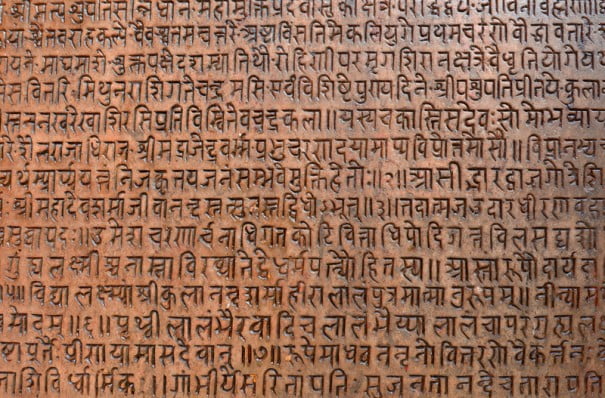 It says Montserrat Simón, licenciada en Filosofía, postgrado en Historia de las Religiones y diplomada en Sánscrito por la BHU (Varanasi, India): "El sonido del sánscrito desprende un magnetismo marcado por miles de años de entrega a lo divino. Comunica una visión del mundo que se ha ido transformando con él, manteniéndose sin embargo en el ámbito de lo sagrado bien sea a través de los rituales o de las enseñanzas sobre nuestra esencia última, sobre nuestra relación con el mundo y con lo divino, sobre el sentido de nuestra existencia.
Conocer un poco más a fondo esta lengua nos abre la posibilidad de ahondar en los mensajes llenos de sabiduría que se transmitieron a través de ella, abrir nuestra mente a otro lenguaje y captar la idiosincrasia que puede haber detrás de su forma de expresar. El estudio del sánscrito puede convertirse en una práctica que nos ayuda a concentrar la mente y tal vez comprender un poquito más de nosotros mismos."
El Curso de Iniciación al Sánscrito

For all those people who have a desire to learn the bases of the Sanskrit but cannot do regular classes during the week.

6 on Saturday from 10.00 to 14.00 and from 16.00 to 18:00

Bases of Sanskrit grammar
Pronunciation
Writing and reading of texts
Recitation of mantras

Dates: 17 October 2015, 14 November, 12 December, 23 January 2016, 13 February, 19 March.

Imparte: Montserrat Simón. Licenciada en Filosofía. Postgrado en Historia de las Religiones y Diplomada en Sánscrito por la BHU (Varanasi, India). Estudió sánscrito y filosofía en India con profesores de la tradición, desde una vertiente académica así como espiritual. Practica yoga desde 2004 y da clases desde 2012. Formada en varios niveles de Focusing. En la actualidad colabora con Casa Asia Madrid y distintos centros de yoga en los que imparte cursos y talleres de sánscrito, filosofía oriental y yoga, tratando de comunicar con entusiasmo la esencia de estas enseñanzas.

Place: Escuela de Yoga Las Tablas.

More information: biijayoga@gmail.com/ T 605 800 697

https://www.facebook.com/biijayoga

http://www.escueladeyoga.org/index.php/talleresc/curso-de-introducci%C3%B3n-al-s%C3%A1nscrito-detail