Menú vegetariano: Pisto yóguico y crema de mango
We share great and sanisimas recipes blog 'Eat to live'. Type and kitchen Gauri, Professor of vegetarian cuisine of the Sivananda Centre of Madrid and the affiliated Centre Sivananda Vedanta of Granada.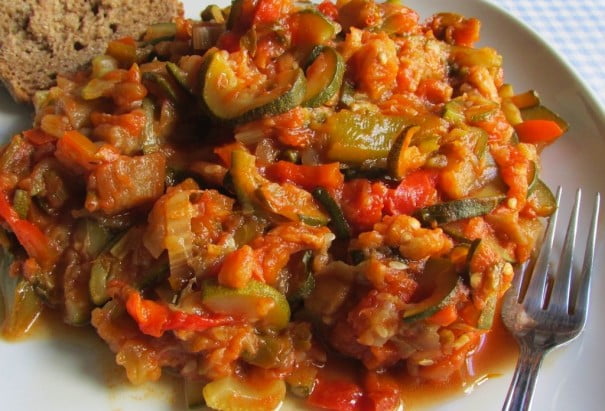 Pisto yóguico
Los ingredientes básicos de esta receta, con algunas ligeras variaciones, los puedes encontrar en muchos platos típicos del mediterráneo. Pimientos, tomates, berenjenas y calabacines son la base del pisto español, del ratatouille francés, de la coca catalana y de muchas ensaladas orientales. Verduras estrella de huertos familiares y del verano mediterráneo, cargadas de prana.
Ingredientes (4-6 personas):
4 cucharadas de aceite de oliva virgen extra

1 tablespoon grated fresh ginger

1 tallo de apio cortado

1 berenjena cortada en dados

2 calabacines cortado en medias lunas

1 pimiento rojo en tiras

2 pimientos verdes en tiras

4 tomates picados (sin pepitas)

1/2 chile seco (opcional)

1 teaspoon dried thyme
Salt
Preparation:
Calentar el aceite en una cacerola y añadir el jengibre y el chile si se usa. Saltear los pimientos durante unos minutos hasta que se ablanden. A continuación añadir las berenjenas y saltear unos minutos más a fuego lento.

Cuando empiecen a ablandarse, echar el calabacín y los tomates. Dejar cocinar sin tapar la olla, removiendo con frecuencia, hasta que la verdura esté hecha y la mayor parte del líquido se haya evaporado.

Servir templada espolvoreada con tomillo.
Puedes tomarla en el almuerzo acompañada de arroz, quinoa, cous cous o un buen puré de patatas. Y si te ha sobrado… te sugerimos para la cena servirla encima de una rebanada de pan integral.
Crema de mango
Ahora es tiempo de mangos en la costa tropical de Andalucía (Granada y Málaga). Los hay dulces y de un intenso color naranja y con un suave toque de acidez y una pulpa más clara. Es una fruta carnosa que se presta a múltiples elaboraciones, además de consumirla al natural. Con esta forma de preparación le gustará a todo el mundo. ¡Pruébala!
Ingredientes (4-6 personas):
2 mangos maduros

200 g de yogur natural de soja

2 cucharadas de almendras tostadas fileteadas

Edulcorante (opcional): Azúcar moreno, jarabe de arce, sirope de ágave o miel.
Preparation:
Cortar por la mitad los mangos, quitar la piel y trocearlos.

Ponerlos en la batidora junto con el yogur y batir hasta formar una crema.

Repartir en boles individuales y decorar con las almendras y el edulcorante en líquido si lo usas.

Servir refrigerado
Note: Si quieres conseguir una textura más cremosa, añade dos cucharadas de nata de soja al vaso de la batidora y bate todo junto.
More recipes: http://comemosparavivir.blogspot.com
Yoga Sivananda Vedanta Granada-afiliado. T 660288571