On Sunday, with you we are more peace
"Contigo somos + Paz" es un recordatorio de que la paz interior es paso ineludible para que la paz y la armonía sean valores universales en la sociedad. Nueva convocatoria de este encuentro anual el próximo domingo a las 11.00 en el Teatro Nuevo Apolo de Madrid.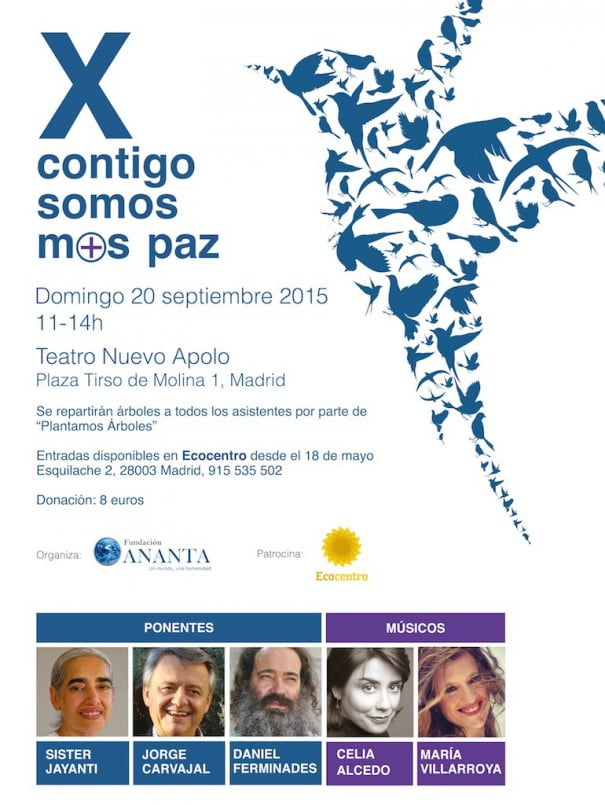 Since the Ananta Foundation, impulsora del encuentro, nos animan a que cada uno de nosotros intente ser un actor del cambio desde el mundo que vemos al que nos gustaría ver. "En contraste con el pesimismo imperante en el ánimo de muchas personas y de muchos círculos de opinión, y en paralelo a las tragedias que asolan a la humanidad, casi siempre causadas por nosotros, la realidad evidencia que en el mundo hay millones de personas que intentan vivir desde la armonía y desde el respeto a todas las criaturas, con consciencia de la interdependencia de todo. Son personas que en muchos casos han descubierto la riqueza de la vida interior y que viven la realidad de que cuando uno cambia, el mundo a su alrededor también cambia".
Este domingo 20 de septiembre intervendrán como ponentes Sister Jayanti, Jorge Carvajal and Daniel Ferminades, que hablarán sobre la búsqueda de la paz interior en un mundo convulso. Habrá también dos interpretaciones musicales a cargo respectivamente de Celia Alcedo and María Villarroya. A la salida, el regalo de la ONG Plantamos Árboles, que entregarán a cada uno de los asistentes un arbolito para que cada uno lo plante en un lugar ya definitivo y lo cuide, contribuyendo así con 1.150 nuevos árboles al planeta.
¡Será muy bienvenido si te animas a ser parte de este X Contigo somos + Paz!