Yoga para educar: un reto, un compromiso, una realidad
El yoga educa el cuerpo, las emociones, el intelecto y la creatividad favoreciendo una gestión ecológica de la energía de cada individuo y posibilitando de forma respetuosa el crecimiento integral de las personas durante toda la vida. Escribe Lìdia Serra.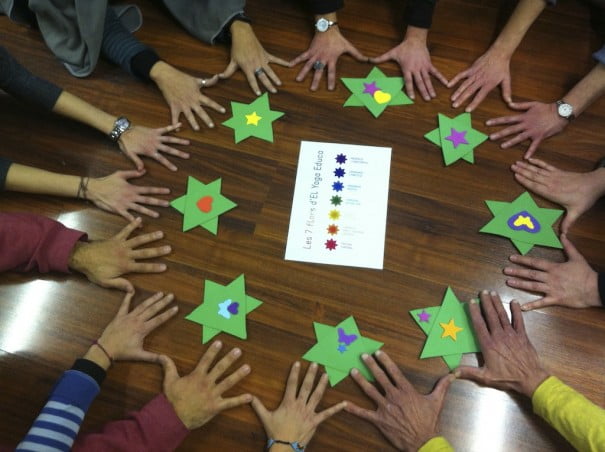 En septiembre-octubre de 2015, la asociación El Yoga Educa inicia de nuevo la formación de Yoga para educar.
En esta formación planteamos a todos los adultos el reto de transformarse a través del yoga y las nuevas pedagogías para una nueva educación, para el nuevo paradigma educativo.
El nuevo paradigma educativo necesita desarrollarse a través de personas que se muevan por patrones de salud mental y corporal, de equlibrio emocional, con una buena gestión ecológica de la propia energía, que dispongan de una comunicación asertiva, de y que sientan respeto consigo mismos y con su entorno.
Partiendo de la base de que todos educamos y de que incluso yendo por la calle somos educadores de futuros ciudadanos que nos toman como modelo de comportamiento cívico, tenemos que tener presente que el compromiso con la educación no corresponde solamente a las familias y a la escuela sino que depende de todos.
Tomar parte activa en la educación es salir de la zona de confort en la que los adultos solemos instalarnos para continuar aprendiendo para ofrecer lo mejor de nosotros a niños y jóvenes. Porque cada uno encierra un tesoro dentro que hay que descubrir y el yoga nos ofrece el mapa que hay que seguir para este decubrimiento.
Formación Yoga para educar
En la formación de Yoga to educate ponemos a disposición herramientas que el yoga nos aporta y que están diseñadas para que tanto niños como jóvenes y adultos podamos descubrir nuestras capacidades intelectuales, nuestro equilibrio emocional, gestionar nuestra la energía de forma ecológica a la vez que desarrollamos nuestra conciencia y nuestra creatividad.
Porque la educación es cosa de todos y aprendemos de forma constructiva y creativa a través de la experiencia y el cariño, en ambientes relajados en los que los límites estén presentes dejando espacio, a la vez, para que cada niño pueda desarrollar sus propias potencialidades.
Vivimos en unos tiempos apasionantes pero a la vez complejos, cambiantes, llenos de estímulos que nos saturan la mente, nos confunden las emociones y nos desorientan el sentido común.
En medio de esa sociedad líquida, el yoga nos aporta equilibrio, salud física y mental, atención y concentración a la vez que desarrolla las cualidades del corazón como la honestidad, el respeto, la generosidad o la empatía.
Por ello, es importante aprender todo lo que podamos de esta ciencia para poder ofrecerlo a niños y jóvenes y que ellos puedan aprender que sea lo que sea lo que ocurra en tu vida, siempre quedará el yoga para acompañarte en tu camino.
El Yoga Educa ofrece este curso formaciones de Yoga to educate in: Manresa, Barcelona, Zaragoza, Valencia y Mallorca.
Information and registration:
http://www.elyogaeduca.com/es/formacion-el-yoga-educa-bloque-1-me-reencuentro-con-mi-ninonina-interior/