Light of the Scriptures / the shortcut secret to the realization-Māṇḍūkya Kārikā I.28
Existe un atajo secreto para lograr la realización de forma inminente: Conocer a Dios en el corazón de todos los seres, amarle apasionadamente e invocar constantemente su Gracia.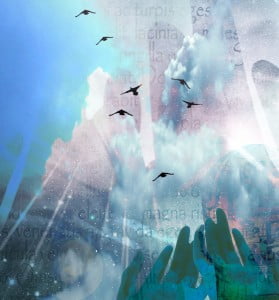 We have already published Māṇḍūkya Upaniṣhad y estamos completando ahora el primer capítulo de Māṇḍūkya-Kārikā, comment in verse of Gauḍapāda, maestro del maestro de Śhaṅkarāchārya.
Traducción y comentario de David Rodrigo (Āchārya Jijñāsu), maestro tradicional de Advaita Vedānta. Para leer las partes anteriores: http://www.yogaenred.com/tag/david-rodrigo/
Māṇḍūkya Kārikā I.28
प्रणवं हीश्वरं विद्यात्सर्वस्य हृदि संस्थितम्।
सर्वव्यापिनमोङ्कारं मत्वा धीरो न शोचति॥
praṇavaṁ hīśvaraṁ vidyātsarvasya hṛdi saṁsthitam |
sarvavyāpinamoṅkāraṁ matvā dhīro na śocati ||
"Conoce OM ´praṇava´ como Dios ´Īśhvara´, presente en el corazón de todos los seres. El sabio que realiza el OM omnipresente no sufre."
La mente-heart es el asiento de la memoria y la percepción (Śhaṅkarāchārya), donde se producen los chitta-vṛtti (modificaciones y operaciones de la mente) en los Yoga Sūtras de Patañjali. La fuerza consciente detrás de (que permite) toda percepción, idea, experiencia, emoción y acción es Dios ´Īśhvara´. Dios es un ser eternamente libre, con conocimiento y poder supremos; quien lo gobierna todo desde el interior de todos los seres (antaryamin); Dios es el primer Guru, quien elimina la oscuridad y el sufrimiento de su devoto totalmente entregado a Él/Ella (Yoga Sūtras I.24-26).
Quien siente la presencia de Dios en todos los corazones, más allá de las cualidades y acciones particulares de los distintos seres individualizados, quien Le ama con ardiente pasión, Le sirve, Le entrega todos sus pensamientos, emociones, acciones y experiencias durante largo tiempo e ininterrumpidamente (Yoga Sūtras I.14), encomendando su vida, su futuro y la de sus seres queridos y dependientes sólo a Él/Ella e invoca constantemente su Gracia, efectivamente recibe ineludiblemente su Gracia, por lo que no tiene nada que temer y no sufre.
Esto es la entrega total a Dios, practicar constantemente su presencia: Īśhvara-praṇidhāna en los Yoga Sūtras (I.23), un atajo secreto para lograr la realización de forma inminente (Nāgojī Bhaṭṭa).
El sabio que realiza el OM omnipresente como el espacio (éter), conociéndolo como el Ser ´Ātman´, no limitado por la ley de la transformación, no sufre, ya que no existe la causa del sufrimiento para él (Śhaṅkarāchārya). Todo cuanto percibimos se transforma, es diferente y limitado, nace y muere. La Vida en todo ello y en uno mismo es Existencia pura, una e ilimitada. Concentrando la propia mente-corazón en esa propia Vida (Consciencia pura, el Ser) y no como ahora, en lo que se transforma y en el asiento que percibe y experimenta toda transformación (cuerpo-mente-corazón) se distingue ser y no ser, lo inmutable y lo mutable, lo eterno y lo limitado, y se realiza por tanto la Verdad.
Esa concentración en la Vida, en la Consciencia pura, debe darse constantemente, mientras tu cuerpo-mente-corazón están en continua transformación experimentando lo transformable, es decir, lo que éstos pueden percibir.
Para ayudarte a ello, puedes imaginar la forma que más te guste de Dios –cualquier forma, incluida la Luz, etc.– residiendo en el corazón de todas las personas, seres, objetos y situaciones con las que te relaciones.
Así tu mente-corazón, tu persona, se armoniza disolviendo la dualidad percibida en la no dualidad sentida directamente en la cueva de tu corazón, en tu ser. Quien hace esto, realiza directamente la Verdad y cruza a la otra orilla sin orillas:
"taroti śokam-ātma-vit | Quien conoce el Ser va más allá del sufrimiento." (Chāndogya Upaniṣhad 7.1.3) Cruza el océano de miseria cuyo origen es la ignorancia primordial ´avidyā´, la ignorancia sobre la verdadera naturaleza de uno mismo; confundir quien experimenta la transformación con la consciencia pura (inmutable) presente en el experimentador.
"asato mā sad gamaya |
tamaso mā jyotir gamaya|
mṛtyor mā amṛtaṁ gamaya |
Condúceme de lo irreal a lo Real.
Condúceme de la oscuridad a la Luz.
Condúceme de la muerte a la eternidad."
David Rodrigo (Āchārya Jijnāsu)
Light of Scripture - Advaita Vedānta traditional school
Training "Scriptures of Advaita Vedānta and Yoga-Sāṅkhya"
http://luzdelasescrituras.wix.com/escueladevedanta
Training
Writings of Advaita Vedānta and Yoga-Sāṅkhya
Study, practice and experience of the complete original writings from the oral tradition: Sāṅkhya Kārikā, Yoga Sutras, Viveka Chūḍāmaṇi, Bhagavad Guītā, Upaniṣhads and Brahma Sūtras
Mokṣha Śhāstra - science of Liberation: settle in the fullness of one's self and reality
–En Madrid: Yoga Shala Alcobendas http://www.ashtanga-yoga-alcobendas.es
Contact: annayogashala@gmail.com
-In Barcelona: Ashtanga Yoga Barcelona http://www.ashtangayogabcn.com
Contact: info@ashtangayogabcn.com
–En Valencia: Gobinda Yoga
También semi-presencial y on-line
Presentation of David Rodrigo (Āchārya Jijnāsu)

Is delivered completely to the realization of his true be and of the truth since in 2008 is was to Rishikesh, Himalaya, India and gave with his master, Dravidāchārya Rāmakṛiṣṇan Swāmījī (Shastra Nethralaya Ashram, tradition Advaita Vedānta of Śhaṅkarāchārya).

During six intense years of self-transformation studied, contemplated, applied and experienced with the master, in a relationship personal and daily, the wisdom experiential and releasing of the large writings complete and original of them schools classic of spirituality and philosophy in India (ṣhaḍ-darśhana) and Sanskrit:

-Advaita Vedānta

– Prasthāna Trayī ´Triple Canon´ con el comentario de Śhankarāchārya: Bhagavad Guītā, principales Upaniṣhads y Brahma Sūtras. Éste último con Bhāmatī, el subcomentario de Vāchaspati Miśhra.

-Advaita Siddhi, Madhusūdana Sarasvatī, part of the Bṛhat Prasthāna Trayī ´Gran Triple Canon´.

– Prakaraṇa granthas (textos secundarios) como Viveka Chūḍāmaṇi, de Śhankarāchārya; Pañchadaśhī, de Vidyāraṇya Muni; Vedānta Paribhāsā, de Dharmarāja Adhvarīndra; Siddhānta-leśha-saṅgraha, de Appayya Dīkṣhita; Dakṣhiṇāmūrti-stotra ´Himno a Dakṣhiṇāmūrti´; Pañcīkaraṇa; Tattva-boddha; o Ātma-jñāna-upadeśha-vidhi.

-Yoga sutras of Patanjali with commentary of Vyāsa, etc.

-Sāṅkhya Īśhvara Kṛṣhṇa-Kārikā.

-The rest of the classical schools (astika darśhana): Artha-saṅgraha (Pūrva Mīmāṁsā); Tarka-saṅgraha (Nyāya-Vaiśheṣhika).

-Grammar of the Sanskrit (vyākaraṇa): Laghu-siddhānta-kaumudī of Varadarāja (simplification of the Aṣhṭādhyāyi of Pāṇini).

He was also initiated in techniques of meditation and consciousness in the tradition of the meditation Yoga in the Himalayas with is Veda Bhāratī (Swami Rama Sadhaka grass Ashram, Rishikesh).

Swami Rama Sadhaka grass Ashram, Rishikesh began to transmit knowledge, practice and experience of Scripture and meditation; and coordinated Dhyāna Gurukulam, the traditional school of the ashram.

En 2014 la vida le trajo de nuevo a España, haciendo disponible directamente -sin vestiduras ni conversiones a lo que no eres-, el conocimiento, la práctica y la experiencia de estas escrituras de sabiduría universal que vienen de y te conducen a samādhi –la realización de la plenitud absoluta de tu propio ser (Consciencia pura, eternamente libre, Felicidad, no dualidad, Realidad suprema, omnipresente)–, aquí y ahora.