Remitido por X Contigo Somos + Paz
Un año más, la Fundación Ananta comparte la convocatoria al X Contigo Somos + Paz, que este año tendrá lugar el domingo 20 de septiembre a partir de las 11 de la mañana en el Teatro Nuevo Apolo de Madrid.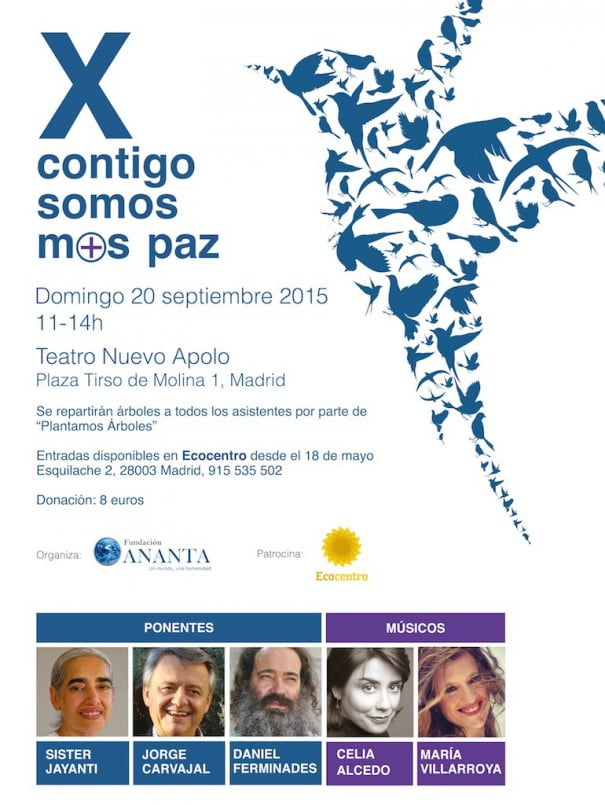 Intervendrán como ponentes a Sister Jayanti, Jorge Carvajal and Daniel Ferminades, que nos hablarán sobre la búsqueda de la paz interior en un mundo convulso. Se contará también con dos interpretaciones musicales a cargo de Celia Alcedo and María Villarroya.
A la salida, los amigos de Plantamos Árboles entregarán a cada uno de los asistentes un arbolito que han plantado y hecho crecer amorosamente durante un año, con la idea de que cada uno de nosotros lo plante en un lugar ya definitivo y lo cuide, contribuyendo así con 1.150 nuevos árboles al planeta. Los ponentes, músicos y voluntarios de Plantamos Árboles participan sin recibir remuneración alguna, y la Fundación Ananta, la organizadora del evento, les agradece su entrega y generosidad.
La donación para asistir a este encuentro, que tendrá lugar en el Teatro Apolo de Madrid (plaza de Tirso de Molina 1) es de 8 euros. Los posibles beneficios se destinarán a financiar las Causas Solidarias de Fundación Ananta (ver link). El acto durará hasta las 14 horas y se abrirá la taquilla a las 9,30 y las puertas a las 10. Seremos puntuales al principio y al final para que nadie se pierda la comida familiar del domingo.
http://www.fundacionananta.org/web/index.php/causas-solidarias-ananta
Las entradas estarán disponibles:
Presencialmente: En Ecocentro, Esquilache 2, Madrid.

Por transferencia bancaria: puede hacerse la donación haciendo una transferencia de 8€ a la cuenta de Fundación Ananta en CaixaBank (IBAN ES23 2100 0997 6802 0063 4646). Una vez hecha la transferencia hay que enviar el justificante de la misma al correo info@fundacionananta.org con el nombre de la persona que recogerá la entrada o entradas en taquilla el mismo día del encuentro. Una vez recibido el justificante, se enviará un email confirmando el pago y la reserva.
Os animamos a ser parte de este encuentro.