Returns the Tantric Hatha Yoga Workshop
Tantra y Hatha Yoga están profundamente unidos entre sí por sus raíces. Hatha es una práctica poderosa que nos permite unir dos energías opuestas en una relación simbiótica de claridad y transformación. La palabra "Tantra" procede del sánscrito, su raíz significa expansión.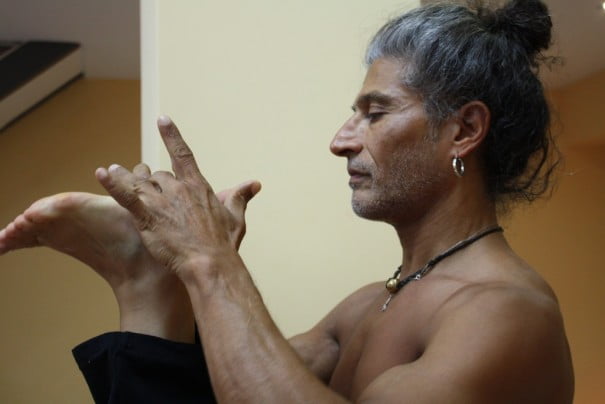 La Escuela Internacional de Yoga ofrece un año más el Taller Tantric Yoga (12h), impartido por Michael J. Stewart, y basa su programa en una práctica integrativa de los diferentes elementos que componen la práctica del Hatha Yoga, centrándose sobre todo en el punto de vista tántrico.
El Tantric Hatha Yoga tiene elementos del Hatha Yoga, como asanas y pranayama, y también otros elementos propios del Tantra, como mudras y mantras.
La experiencia global del Tantra busca la conexión entre lo trascendente o divino y nosotros mismos.
This Course of specialization está enfocado hacia la percepción sutil que nos permite dicha reconexión. Está dirigido a practicantes con cierto grado de conocimiento de Asana y Pranayama, y especialmente recomendado a Instructores y Profesores de Yoga.
Biomechanics of asana
Dentro de esta propuesta tendrán lugar secuencias dinámicas de asanas con instrucciones específicas de alineación para proporcionar fluidez; es una práctica integrativa que brinda la oportunidad de experimentar la profunda interrelación entre Hatha y Tantra.
El contenido del Curso de Especialización abarca la "Biomecánica del Asana": una profunda indagación sobre el alineamiento y los ajustes del Asana por parte de cada practicante.
Además el programa profundiza en la práctica de Pranayama, Mantras, Mudras y Dharana.
Open kirtan
Este gran workshop que Michael J. Stewart ofrece en la Escuela terminará con un Kirtan abierto a todo aquel que esté interesado aunque no haya participado en el taller. Pretende ser una experiencia vivencial, enriquecedora y compartida.
Este es un evento único de música y misticismo. Michael combina su formación musical africana con los amplios conocimientos de mantras tradicionales adquiridos durante muchos años y dotando a esta práctica devocional la cualidad del Bhakti Yoga.
Este Taller se imparte los días 24 y 25 de octubre en Madrid.
Para más información y reservas: 91 416 68 81 – 648 078 824 – 677 253 399. Calle Fuencarral 134 -entrada Alburquerque- 28010. Madrid.
More information: http://www.escueladeyoga.com/Taller-Tantric-Hatha-Yoga.html