Latest places to travel to India this summer!
Este viaje en grupo está pensado y diseñado para quienes viajan a la India por primera vez y quieren acercarse a su cultura, filosofía y espiritualidad, conocer sus gentes, visitar lugares sagrados de gran belleza, practicar yoga y vivir una aventura única. Del 16 al 31 de agosto. Escribe Sita Ruiz.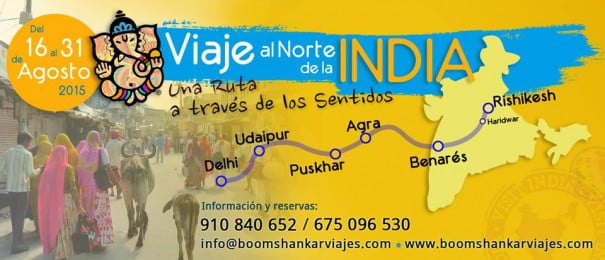 India es un país único, sorprendente e inigualable que con el paso del tiempo sigue fascinando y despertando todo tipo de sentimientos, sensaciones y emociones no solamente en aquel que la visita sino también en quienes leen o escuchan algo sobre esta tierra milenaria.
Paco Nadal es un periodista y gran viajero que, a pesar de haber recorrido infinidad de países y lugares remotos de todo el mundo, curiosamente hizo su primer viaje a India hace tan solo unos meses. Sus palabras e impresiones tras la vuelta, hablan por sí solas:
"La India hay que verla, es imposible explicarla….Es un pais intenso, agotador y exigente para el viajero. Pero es un lugar que enamora, vayas como vayas. Y terminas cayendo rendido de sus gentes, de sus colores, de sus paisajes, de sus palacios y sus templos y de sus gigantescas contradicciones. La India existe solo en la India. Y hay que ir a verla."
Y así es, por mucho que te cuenten, que escuches o que hayas leído y visto en fotografías o televisión, es imposible hacerse una idea de cómo es, cómo funciona, cómo suena, cómo huele, cómo sabe, como vibra, como se vive allí.
Por ello, desde Boom Shankar travel te invitamos a viajar con otros ojos y a descubrir la India de una manera diferente, cercana y abierta. ¿Estás preparado para vivir un verano lleno de emoción, pasión y aventura?
Nos encantará que te unas a nuestro viaje y así poder acompañarte… ¡Bienvenido/a a India!
General terms and conditions
"Una Ruta por el Norte de la India a través de los Sentidos" tiene una duración de 16 días en los cuales visitaremos Delhi, Udaipur,Pushkar, Agra, Benarés, HAridwar and Rishikesh.
El precio por persona es de 1340€ y el grupo es reducido (8-10 personas)
Includes:
2 Vuelos internos (Delhi-Udaipur y Benarés-Delhi)

Travel insurance

Asesoramiento e información (antes y durante el viaje)

Mini-bus con conductor propio y aire acondicionado.

Habitación doble en régimen de alojamiento y desayuno.

Guía local en Delhi, Agra y Benarés.

Spanish guias-acompanantes during the entire trip.

Clases de Yoga y Meditación.

Paseo en barca en el Ganges

Visita a los proyectos de la Ong "Semilla para el cambio" en Benarés.

Entrada al Taj Mahl en Agra y City Palace en Udaipur, entre otros monumentos.

Billetes de tren (Agra-Varanasi y Haridwar-Delhi)

Todas las entradas a los monumentos, actividades y excursiones que aparecen detallados en nuestro dossier.

Todos los traslados desde los aeropuertos, incluyendo estaciones de trenes y hoteles.
También habrá "actividades sorpresa" que os propondremos durante el viaje y tiempo libre a diario para descansar y para que cada uno experimente en solidario la magia de la India como más le apetezca.
Escríbenos a info@boomshankarviajes.com para solicitar el Dossier del viaje.
¡¡¡Recuerda que el Plazo Limite para apuntarse es el 30 de junio!!!
¡¡La India te espera este verano!!
Ma.Learn moreorn y reservas:

Boom Shankar Viajes. (Jose Ferrer y Sita Ruiz)

info@boomshankarviajes.com