Why yoga generated positive thoughts?
Ante la forma, se esconde el fondo. Así ocurre que en la práctica diaria queda oculta la globalidad de la enseñanza yóguica. Sabemos que yoga y pensamiento positivo van unidos, pero se nos ha olvidado el porqué. Escribe Carmen Viejo.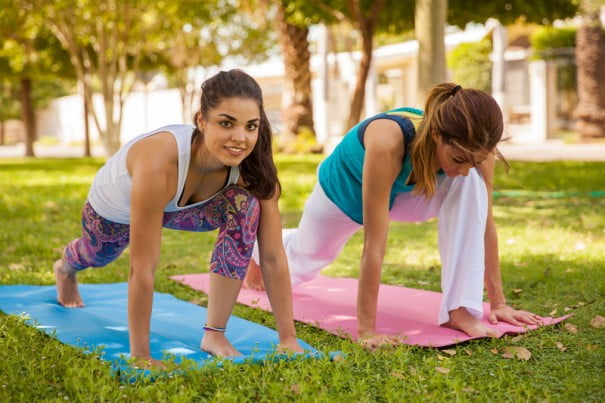 The yamas and niyamas son actitudes que nacen y se desarrollan en la propia práctica, son aspiración tanto como resultado del Yoga. Y son estas actitudes armónicas con el macrocosmos y con el microcosmos las que generan la capacidad de pensar positivamente.
Veamos cómo:
Ahimsa, la no violencia, lleva al pensamiento que no maltrata ni a uno mismo ni a los demás.
Satya, la verdad, dirige a lo positivo, pues lo negativo es tan solo la ausencia de algo, es cambiante y, por lo tanto, no es verdad.
Asteya, el no robar, anima a respetar nuestras propias ideas y las de los demás, sin intentar imponer nuestro criterio, pues cada mente es única, un reflejo del alma individualizada.
Brahmacharya, "la llave de Brahma", es un recuerdo de que el pensamiento es creador, y de que pensamiento positivo es un intento de reflejar lo sagrado, como una oración continua.
Aparigraha, el no acumular, conduce a una reducción de los pensamientos, porque la sencillez debe expresarse en la mente para poder manifestarse en la vida. Al reducir pensamientos creamos espacio para la pura percepción.
Sauca, la limpieza, evita el pensamiento burdo, tortuoso, denso, irrespetuoso y, sobre todo, injurioso.
Santosha, el contentamiento, exhorta a expresar el agradecimiento y a desarrollar una visión bondadosa hacia nosotros mismos y hacia el mundo.
Tapas, la disciplina, destruye la dispersión, entrenándonos en el ekagrata, la atención en un solo punto, en una sola postura, llevándonos a la percepción no categórica.
Svadhyaya, el estudio, redirige hacia uno mismo, a la observación de los propios pensamientos y al discernimiento entre ser y personalidad.
Ishvarapranidhana, la entrega última, es la liberación de la creencia del "yo" y del "mío" como origen de cualquier pensamiento. Es la humildad y el reconocimiento de que no nos corresponde entender todas las razones y todos los sucesos. Es permitir que hable el Silencio.
Carmen Viejo Heredero (Ahimsa) es Profesora de Yoga, Licenciada en Ciencias de la Información y titulada por la Yoga Vedanta Academy (Escuela de Sivananda) y por la Asociación Española de Practicantes de Yoga (AEPY).

Workshops and retreats in Granada

Información: T 620549192 ahimsayogandalucia@yahoo.es

Association for Nonviolence and the harmonious development of being human "Ahimsa top Andalusia"

Next meetings in Granada "Yoga and human values":

"Pensamiento positivo. La magia blanca", sábado 13 de junio, en Víznar (35 €/taller).

"Donde el Silencio nos lleve", retiro de cinco días: Del 29 de julio al 3 de agosto, en Válor (200 €).

"Recupera tu ritmo", yoga y descanso: Del 9 al 23 de agosto, La Loma de los Gualchos (35 €/día).