Yoga against violence against women in the Plaza Mayor
Un año más, el yoga fue una fiesta en Madrid. Más de 3.000 personas practicaron yoga este sábado en la Plaza Mayor en la tercera edición del Free Yoga by Oysho. El evento congregó desde las 11 de la mañana a todas las personas que quisieron participar en una clase llena de energía y magia impartida por la profesora Xuan Lan-Trinh.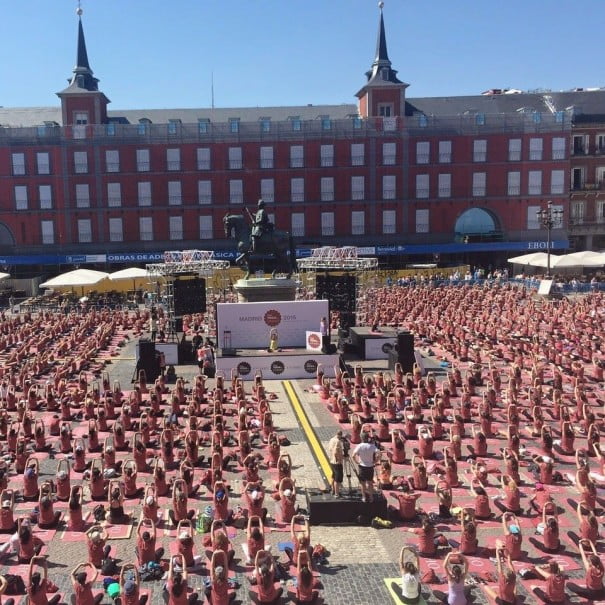 Este año los organizadores del evento quisieron apoyar la campaña Hay Salida en contra de la violencia de género. Así que la delegada del Gobierno para la Violencia de Género, Blanca Hernández, fue una participante más en esta fiesta madrileña del yoga.
Según informa el diario The world, Hernández dijo que con este tipo de acciones se pretende lograr tres cosas: la primera, "que la sociedad tome conciencia de la gravedad de la violencia que sufren las mujeres por el hecho de ser mujer"; la segunda, aprender a detectar pronto estos malos tratos, "un insulto, un control de horario… eso también es violencia de género, que todavía se considera normal" y por último, lanzar "un mensaje de esperanza, el ochenta por ciento de las mujeres que han sufrido violencia de género sale".
Mercedes de la Rosa, una de las organizadoras de Free Yoga by Oysho, afirmó que la idea de las macroclases surgió de la necesidad de acercar el yoga a la gente, de desmitificar todo lo que había alrededor de esta actividad para "sacar el yoga a la calle".
En efecto, la capacidad de convocatoria del yoga y de la masterclass de Free Yoga by Oysho es innegable. Las cifras indican que el yoga sigue en plena expansión en España. Desde la primera edición hace cuatro años en Barcelona, donde acudieron casi 1.000 personas, este año se han conseguido alcanzar los 3.000 asistentes, capacidad máxima que se admite en la Plaza Mayor madrileña.
Fue un acierto que Xuan Lan-Trinh, la profesora que dirigió la clase con brillantez, advirtiera a los grandes medios de comunicación generalistas que informaron sobre el acto de que "el yoga no es un deporte; es una disciplina que tiene posturas aptas para todos los públicos". Con todo y con eso, la reportera de RTVE que informó para el telediario no puedo por menos de referirse a la práctica del yoga como "deporte", tal como se ve en el vídeo de abajo.
Para más información, vídeos y fotos:
http://www.rtve.es/alacarta/videos/telediario/3000-personas-practican-yoga-plaza-mayor-madrid/3148720/
http://www.lasexta.com/noticias/sociedad/cerca-3000-personas-practican-yoga-plaza-mayor-madrid-violencia-genero_2015053000676.html
http://www.abc.es/fotos-madrid/20150530/practican-yoga-personas-plaza-1621165505823.html

Did you like this article?
Subscribe to our RSS so you don't miss anything