Comparative mystical systems
Currently we are witnessing on a global basis an astonishing and massively return to the wisdom ancient (ancestral) by individuals of any stratum of the society, not only as therapeutic process but as the way of development and learning human. Writes Eva Espeita (Swni. Rhadananda).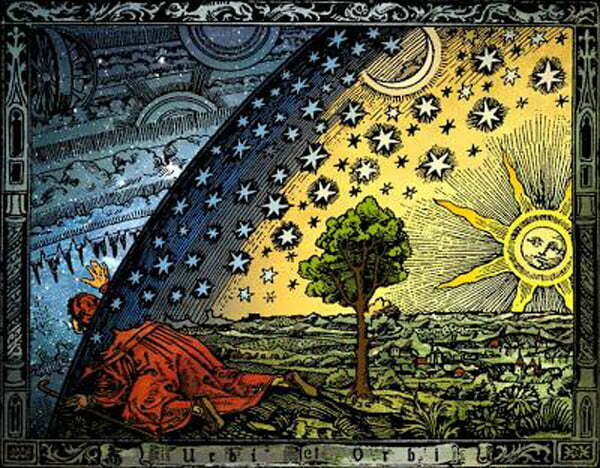 Something that a few years ago hardly appeared among the inclinations of some small groups of diverse nature (facing the main currents of thought and research), today simply is part of the activity normal of a large part of the population worldwide.
Words and concepts associated traditionally with it metaphysical or the Mystic as "meditation", "awakening of the consciousness", "yoga", "kundalini" "energy universal", "pipeline", "tantra", "attention full", "shamanism", "vibration", "om", etc. appear in our society next to them other offers of the market of the capital as a consumable more, clearly on the rise.
While all this process has a potential wonderful, unfortunately many people depart of the superstition, of them religions and of the "witchcraft of balance" to finish in these systems low them same premises, looking for another thing in which believe: replacing an Idol by another. This that is why recently the psychology and the science in general have contributed its part, stripping to the meditation of his "trickery".
Obviously, it is crucial the work of discernment and universality What hopes scientific knowledge (just to avoid the highly dangerous irrationality superstitious), but continues to be true also - as proposed by the Yoga perspective - there is everything a subtle realm of reality that requires other cognitive methods, other forms of experimentationas well as a total absence of ontological and epistemological budgets. From this perspective, we are therefore constantly forced to walk a razor's edge whose ends (highly dangerous both) are the blind credulity and irresponsible and the gross incredulity of a materialistic reductionism. This edge, this via of between, exists, is possible (dan test of this the large teachings of all them times), but for travel it is requires, invariably, a level of commitment to unusual.
While these systems of ancient wisdoms were conceived so that any human being could benefit from them, behind them the premise that education is "for a few": those lucky that is retired in life with their teachers and teachers in a life of resignation and of acceptance; a transit of the ignorance to the wisdom.
With view of bird on them societies modern and the incipient practice of these technical now, is can observe as trend general an interest in them benefits "surface" of such practices but, often, not both in make the effort of understanding the background of the same, ' re-invented ' then the subject in "multipracticante" (that not in "practicing perseverant") and pretending to, in the limit of it absurd, maintain the status quo of his life, avoiding the transformation integral to which these traditions are running.
However, chen deepen of form committed in the teachings, we can experience clearly as are here to put an end to all our known world, including ourselves (our egos, our characters). The aim of all the great mystical traditions is our deepest release.
The proposals of the workshop
-Make visible the bonds that unite the knowledge of humanity throughout history and geography for a greater understanding of the phenomenon of "meditation" in general. In this regard, reference is made to the underlying relations between prehistoric cults, Greek cults, Egyptian mythology, Yoga, Tantra and Indian Vedanta, Taoism, Hermeticism, Christianity, Medieval European Alchemy, Jewish Kabbalah, American shamanism, secret societies of the 19th century (such as the Hermetic Order of the Golden Dawn and the Ordo Templi Orientis)...
"-Share that"Perennial wisdom"that underlying low all them great teachings of them large mystical of all the times and backgrounds." A wisdom pure and free, not subject to dogma one, accessible through the lighting of every human being and therefore, unrelated to the fundamentalism, to the mercantilism and to the superstition.
-Discover that This perennial wisdom is practical, experiential, and that therefore We can apply it in our day to day. To do this, we will discuss the techniques of different systems and will carry out a practical approach to the "cabalistic Tarot" Aleister Crowley as a meditation system syncretic (a tool for self-knowledge, not of "divination") which combines, of magisterial form, a good part of these sapiential gems of humanity through a symbolic system of immense wealth.
-Finally, this workshop is, from deep, an act of recognition and devotion to our teachers and teachers in all corners of the world and of the history that of forms so beautiful, so different and so similar, us have gone inspiring and guiding in this odyssey that we call life. Without them, everything would be very different.
Opening hours: from 17:00 to 21:00. The punctuality is necessary for the Organization of the teaching. The time indicated is the hour of the start of the session, then is should go to the school with enough time of advance (around 15 minutes).
Once started the practice, the door will not open since this will affect the proper development of it; also by this motive is important that if the practitioner is the door closed not call to the same by respect to their companions and companions.
Date: Saturday 13 of June
Where: Aushadhi School of Yoga. Paseo de las Delicias 47-51 (pedestrian passage)
Contribution: Price free.
Contact: contacto@aushadhiyoga.com / T 915 391 669
About the speaker

Eva Espeita left (Swamini Radhananda Saraswati) She is founder, co-organizer and Professor of Integral Yoga in Aushadhi School of Yoga in Madrid through regular classes, workshops, courses, retreats and seminars. It starts in the Yoga in 2001 and is dedicated to his teaching since 2003 mainly in Spain and also abroad. His areas of teaching include: body Yoga (Hatha Yoga, ancient and modern, according to several schools including asana, pranayama, mudra and bandha), Yoga of energy (Kundalini Yoga - Kriya Yoga, Chakras, Prana Vidya), Yoga of sound and devotional (singing Dhrupad, Nada Yoga, Bhakti Yoga, Mantra, Kirtan), Mental Yoga (Raja Yoga, Patanjali, Antar Mouna, Yoga Nidra) and Yoga of knowledge (Jnana Yoga (, literary tradition of Yoga and Vedanta, Tantra and the philosophies of the Shaivism).

It forms initially and for years with direct disciples of Swami Satyananda Saraswati SW. Gyandharma, with whom he has lived, accompanied and translated in different seminars and Danilo Hernández (SW. Digambarananda), SW. Nishchalananda (which began it as a Sannyasin). Explores also other visions and schools relevant in the work body (such as Pattabhi Jois, Gustavo Ponce, John Friend, Iyengar, breathing and movement prenatal with Montse Cob). Has translated from the English to the Spanish to several teachers foreigners of Yoga and meditation in retreats and seminars.

After a self-taught and also directed in music learning and leading in the sound tradition of India, dedicated especially to the study of singing Dhrupad (the oldest singing tradition in the Hindustani classical music) with their teachers Ramakant Gundecha Pandit and Pandit Umakant Gundecha (The Gundecha Brothers) and Amelia Cuni. He is a co-founder and one of the members of the musical project Sunyata. Initiated in studies on philosophy of the art and aesthetic, mythology and symbology, etc. by Marta Espeita left, is also student of several systems of meditation that have emerged along the history (Buddhism, Taoism, Kabbalah, Tarot cabalistic, Alchemy Medieval European, shamanism). It maintains contact with the academic study of these traditions of self-taught and attended several courses of doctorate of Sciences of religions at the University Institute of Sciences of the religions of the Complutense University of Madrid.