Yoga Festival 'with wings of devotion and wisdom'
Los Festivales de Yoga son una forma de disfrutar y celebrar el yoga durante varios días, con invitados especiales que comparten sus conocimientos, consejos prácticos, conferencias, talleres y excelente comida vegetariana. Te animamos a unirte a esta celebración primaveral del 9 al 13 de junio en el Centro Sivananda de Madrid.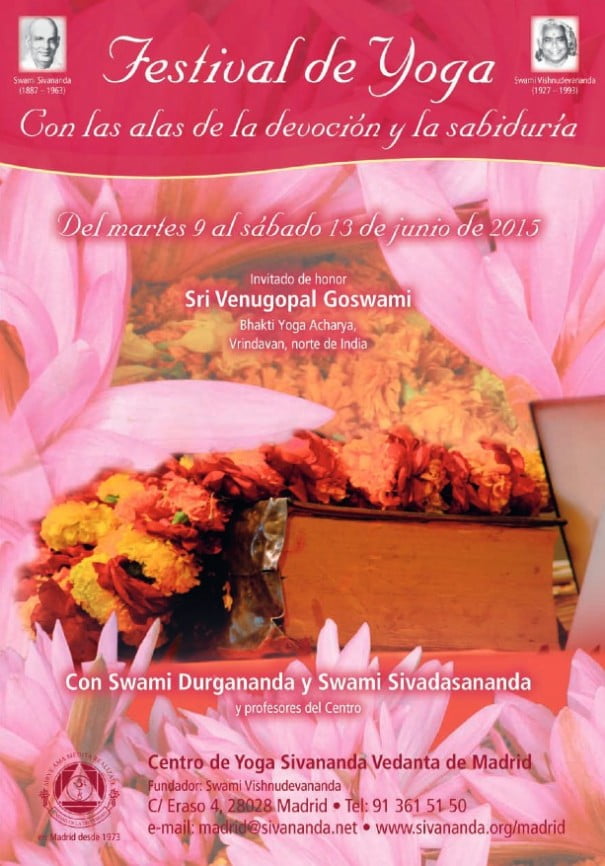 Las jornadas del Yoga Festival 'with wings of devotion and wisdom' incluyen cada día:
Two kinds of asanas and practice of pranayama, to 12:00 and 17:00.
Two conferences or workshops with our special guests.
Special workshops for yoga teachers.
Excellent vegetarian food.
A Satsang with silent meditation chant of mantras and Conference-
Concerts of spiritual music.
Guest of honour: Sri Venugopal Goswami, Bhakti Yoga Acharya, Vrindavan, norte de India
Sri Venugopal Goswami procede de una tradición familiar de más de 500 años. Su padre le inició en la sabiduría de las escrituras clásicas del templo Radha Raman en Vrindavan, India. Estudió durante muchos años junto al famoso vocalista hindú Pandit Jasraj, uno de los más premiados y principales exponentes de la música clásica hindustaní.
Con la participación de:
Swami Durgananda. Yoga acharya. Discípula de Swami Vishnudevananda y Acharya (profesora espiritual) de los centros Sivananda en Europa. Enseña Yoga y filosofía en los cursos de formación de profesores en el mundo entero. Su estilo de enseñanza práctico e intuitivo está inspirado en su propia práctica personal intensiva y en sus más de 35 años de experiencia como enseñante.
Swami Sivadasananda. Yoga acharya. Discípulo de Swami Vishnudevananda. Dirige el Centro de Madrid desde hace más de 25 años. Enseña con sencillez, humor y experiencia en los cursos de formación de profesores.
Program:

Martes 9 de junio
17:30h Taller de asanas con Swami Sivadasananda, el siguiente paso en las flexiones adelante

19:00h Conferencia con Lakshmi: Desarrollo de la memoria y la fuerza de voluntad

20:00h Recitación musical: El propósito Supremo de la Vida
Miércoles 10 de junio
17:30h Taller de asanas con Gopala, desarrollo de la capacidad vital

19:00h Conferencia con Swami Sivadasananda: Relajación mental y control de las emociones

20:00h Recitación musical: De la naturaleza humana a la divina
Jueves 11 de junio
17:30h Taller de asanas con Swami Sivadasananda, variaciones de asanas para desarrollar fuerza y flexibilidad en los hombros

19:00h Conferencia con Swami Durgananda: Dharma, la vida universal

20:00h Recitación musical: Sabiduría y realización
Friday, June 12
17:30h Taller de asanas con Gopala, la movilidad de la articulación sacro ilíaca

19:00h Conferencia con Swami Sivadasananda: Comida vegetariana adecuada al desarrollo humano

20:00h Recitación musical: El poder de la ilusión
Saturday, June 13
12:00h Taller de asanas. Flexión, extensión y rotación de la columna vertebral

12:00h Taller de profesores con Swami Sivadasananda: Reconocer limitaciones y errores en las asanas

14:00 h vegetarian food

15:30h Conferencia con Swami Durgananda: Significado y necesidad de la práctica espiritual

17:00h Clase de asanas con Gopala, efectos espirituales de las asanas

19:00h Concierto: Melodías y sabiduría oriental con Sri Venugopal Goswami y sus músicos
Donativo sugerido (martes, miércoles, jueves y viernes) Talleres de asanas o conferencias: 12€, con tarjeta de clases: una clase más 4€. Recitación musical gratuita
Donativo sugerido sábado: 25€ para todos los amigos del yoga
More information: http://www.sivananda.es/eventos/festival-yoga-conciencia