Dinner solidarity in favor of the NGO of Amma
Cena solidaria a beneficio de la obra social y humanitaria de la ONG Embracing the World, liderada por Amma. El 50% de lo recaudado en la cena se entregará a esta ONG. 25 de mayo en Madrid.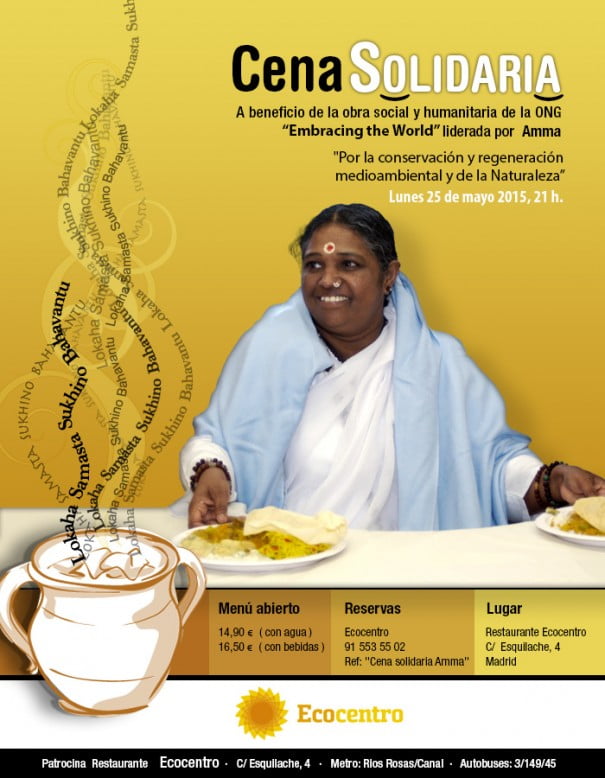 The Grupo Amma Madrid comunica: "Esta cena benéfica es una de las acciones encaminadas a persuadir a Amma de que Madrid merece una visita suya este próximo otoño. Ella sabe que llevamos años esperándola, años dando a conocer por diversos medios sus enseñanzas y su obra sociohumanitaria en India y en muchos otros países.
Queremos dedicar esta cena a la conservación y regeneración de la naturaleza, del medio ambiente. Siguiendo a Amma, nos hemos puesyo al servicio de la Tierra por amor a la Tierra. Empecemos por reducir nuestra huella de carbono".
Por la conservación y regeneración medioambiental y de la naturaleza.
When: lunes 25 de mayo a las 21.00 horas
Where: Restaurante Ecocentro, c/ Esquilache 4. Reservas: 915535502 y 690334737. Ref. 'Cena solidaria Amma"
Menú abierto: 14,90 € (con agua) / 16,50 € (con bebidas)