Treat yourself to a different day
El 11 de abril date un mimo y disfruta de talleres de danza, yoga, terapias y un espectáculo de danza mística y de música oriental en directo. Un sábado completo y distinto, creado con amor por voluntarios. Todo lo recaudado será para la obra social de Amma, y con intención de hacer posible su llegada a Madrid.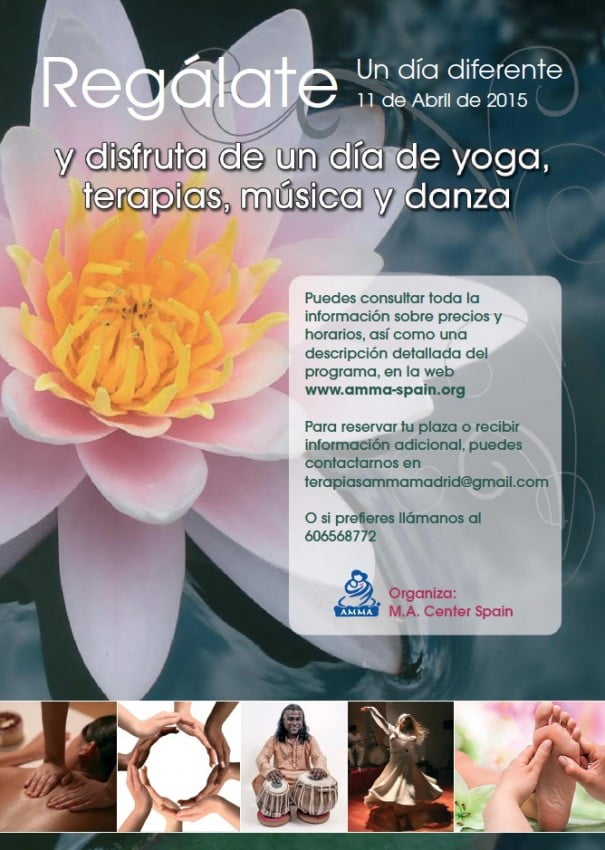 The Program es éste:
11:00 a 12:15: Clase de Yoga 12:30 a 13:30: Taller de Danza Saraswati, danza mestizaje oriental. 13:30 a 14:30: Bhajans (cantos devocionales). Entrada libre. 16:30 a 17:00: Presentación y vídeo sobre la obra social de Amma. Entrada libre 17:30 a 18:30: Taller de reordenación postural. 19:00 a 20:00: Taller de Danza del corazón (Tandava). 20:30: Danza y música en directo
Terapias
Quiromasaje • Shiatsu • Masaje descontracturante • Reflexología podal • Masaje tailandés • Masaje tibetano • Reiki • Terapia energética • Terapia de Luz • Abhyanga • Masaje ayurvédico para embarazadas.
Puedes consultar una descripción detallada de las terapias y talleres en la web www.amma-spain.org Todos los colaboradores ofrecen su trabajo gratuitamente. Los beneficios se destinarán íntegramente a la obra humanitaria de Embracing the World que inspira Mata Amritanandamayi (Amma).
Precios: Terapias: 30 € c/u (sesiones de 45 min) • Talleres y concierto: 10 € c/u • Bono de medio día (mañana o tarde): 35 € (Incluye 1 terapia + 2 talleres) • Bono de día completo: 60 € (Incluye 2 terapias + concierto) o 1 terapia + acceso libre a talleres y concierto.
Information and reservations: Las plazas son limitadas. Es necesaria reserva previa. Contacta en: terapiasammamadrid@gmail.com T 606568772 Dirección Escuela de Yoga de Las Tablas. C/ Isabel Colbrand 10-12 (Las Tablas) 5ª planta, local 131, Acceso por Alfa III – A1, 28050 Madrid Organiza: M.A. Center Spain.