A Master of Yoga and development staff
Con el título de "Precisión, Integración y Conciencia" y dirigido por Mayte Criado, este Máster Residencial de la Escuela Internacional de Yoga es un programa para el desarrollo personal que propone indagar en la propia motivación y compartir con formadores y alumnos un Yoga auténtico. Se obtiene la Certificación de nivel superior como Profesor-Máster de Yoga (3º Nivel, 500 h). Del 30 de marzo al 07 de abril 2015.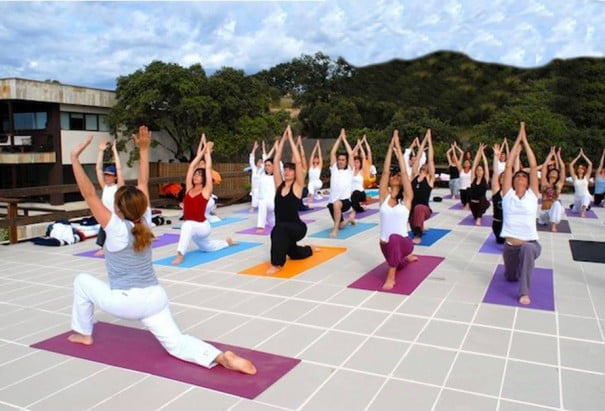 Este curso ofrece una gran motivación para el desarrollo personal del alumno en cuanto a su formación humana y a la preparación que como Profesor de Yoga –nivel 3 Master-, le brinda la oportunidad de compartir con los demás su experiencia vital.
La modalidad residencial proporciona el espacio ideal para la reflexión y la convivencia con los compañeros (también Profesores de Yoga) y los Formadores.
Impulsa de una manera sostenida el cumplimiento de un gran compromiso con uno mismo a través del Yoga: dar un sentido profundo al trabajo realizado en relación a la propia existencia.
Es un encuentro vivencial que favorece las relaciones interpersonales al tiempo que profundiza en áreas especializadas que capacitan al Profesor-a de Yoga en su quehacer diario y su crecimiento interior.
Es el nivel que proporciona la capacidad de enseñar a los demás, a partir de la propia experiencia y de los conocimientos adquiridos, para lograr un profundo desarrollo de la sensibilidad y un gran respeto por los procesos y la realidad de aquello que es en uno mismo y en los otros.
El alumno obtiene la certificación que lo habilita para enseñar y acompañar en Yoga. Es el final de la Formación Completa como Profesor-a Master de Yoga -Nivel Superior- pero también marca el comienzo de la gran aventura de la vida en su más elevada expresión: aquella que nos da la oportunidad de ayudar a los demás y transmitir conscientemente experiencia y amor.
A quén está dirigido: A los alumnos con título de Profesor/a de Yoga Nivel 2 (400h) de la Formación de Profesores de Yoga de la Escuela Internacional de Yoga y/o alumnos que puedan convalidar las titulaciones del mismo nivel, recibidas en otras escuelas reconocidas.
Modalidad residencial: Retiro residencial del 30 de marzo al 07 de abril 2015
Una vez inscrito, el alumno recibirá todas las indicaciones y facilidades para su llegada al lugar del encuentro.
More information

Escuela Internacional de Yoga. T 91 416 68 81 – 91 309 36 07 7 info@escueladeyoga.com

http://www.escueladeyoga.com/Formacion-Profesores-de-Yoga-3Nivel-Master.html