Book / to fall into itself
Subtítulo,
Diálogos en torno a la palabra de Nisargadatta Maharaj.
Vicente Gallego es uno de los poetas en lengua española más reconocidos, discípulo de Nisargadatta Maharaj. Este texto es de una lucidez mística fuera de lo común. Interesante para practicantes del zen, la tradición hindú o la espiritualidad laica. Editado por Kairós. Precio, 14 €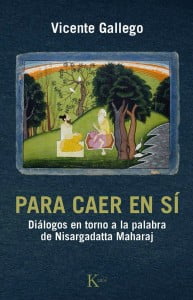 Este nuevo libro de Vicente Gallego es un homenaje a la memoria de su maestro de vida, Nisargadatta Maharaj. Bajo la forma de un diálogo entre amigos –que fue la que Nisargadatta empleó para compartir su lúcido no-saber–, se ahonda aquí en el meollo de la naturaleza original de la realidad. Con un estilo coloquial, desenfadado y vigoroso, el autor va tratando de mostrar la trampa implícita en toda pregunta acerca de lo único. A la vez que subraya la necesidad de inquirir hasta que cualquier duda se desvanezca por sí sola. Para caer en sí recrea las inquietudes del buscador de la verdad; procurando orientarlo hacia el simple y definitivo desvelamiento de lo falso.
En su esfuerzo por rehuir la jerga metafísica y hacerse entender, el humor recorre este libro, que dinamita toda solemnidad para apuntar, lleno de respeto y gratitud, a lo profundo: aquí y ahora, donde lo sorprendente es que no hay superficie ni profundidad.
Vicente Gallego ha publicado varios libros de poemas, entre los que destacan Santa deriva, Cantar de ciego, Si temieras morir and Mundo dentro del claro. Sus libros de ensayo, todos publicados por Kairós, son Contra toda creencia and Vivir el cuerpo de la realidad.