Festival "you surpass yourself!"
Dos días de puertas abiertas con talleres y conferencias sobre la práctica del yoga para superarte a ti mismo. Invitados especiales: Jorge Carvajal y Fernando Díez. Los días 22 y 23 de noviembre, de 12.00 a 21.00 horas en el Centro de Yoga Sivananda de Madrid.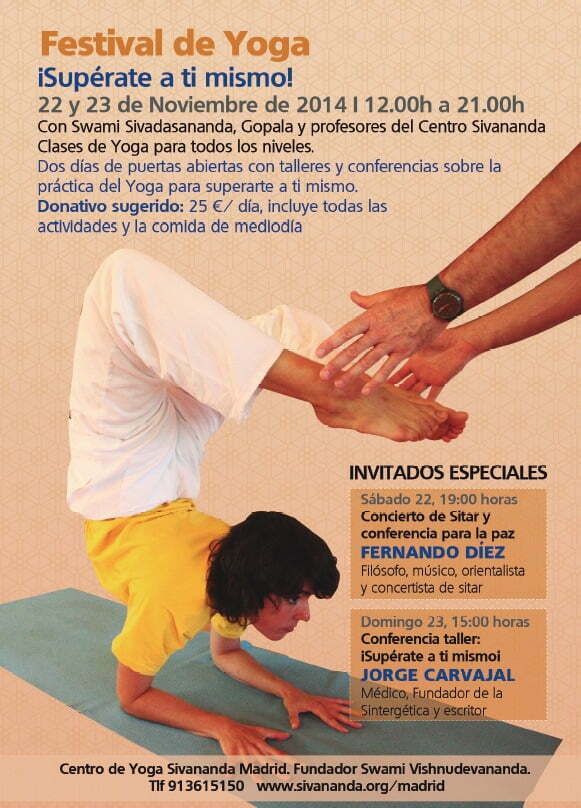 El yoga es una forma de vida que te ayuda a desarrollar tus potencialidades de forma integral. Llega a todos los rincones para recordarte: ¡Supérate a ti mismo!
El yoga es un apoyo fundamental en la enfermedad en la vejez, en la privación de libertad, en los ambientes profesionales estresantes y en situaciones similares.
Este Festival está abierto a todos, con clases de yoga para los diversos niveles de práctica.
Program
Sábado 22 de noviembre:
12.00 h. yoga class: "Exceeds your ability to stretch in the asana". With Swami Sivadasananda and Lakshmi.
14.00 h. vegetarian food.
15.30 h. Conferencia – coloquio: "El Yoga fuera de los centros de yoga. Instrumento para la superación de las dificultades". Participan profesores y alumnos que comparten el yoga en residencias de ancianos, en centros penitenciarios, en hospitales y en ambientes profesiones estresantes.
17.00 h. yoga class: "Increases your capacity and muscle tone in the asana". With Gopala and Yashoda.
19.00 h. Satsang, silent group meditation, chant mantras.
Conference for peace and from Sitar with our special guest concert Fernando Diez.
Sunday, November 23:
12.00 h. yoga class: "Increases your level of prana pranayama exercises". With Vishnu and Manuel.
12.00. Workshop for yoga teachers, with Swami Sivadasananda: "How to teach breathing techniques to improve the balance of the nervous system".
14.00 h. vegetarian food
15.00 h. Conference with our special guest Jorge Carvajal: "Overcome yourself!".
17.00 h. yoga class: "mental strength through concentration: Yes you can". With Gopala and Jyoti.
19.00 h. Satsang. Silent meditation group and singing of mantras for peace.
Conference with Swami Sivadasananda: "The power of thought: instrument for overcoming".
Donativo sugerido: 25€ por día.
Incluidas todas las actividades del día y la comida vegetariana.
Posibilidad de alojamiento sencillo en el Centro para profesores y estudiantes de fuera de Madrid.
Teléfono para reservar 913615150
More information: http://www.sivananda.org/madrid/festival.htm