On Sunday, you are + peace
Este domingo día 21 de septiembre es el Día Internacional de la Paz, y coincide con la celebración del IX Contigo Somos + Paz, masiva convocatoria anual de música, meditación e inspiradores ponentes. ¡Te esperamos a partir de las 11 de la mañana en el Teatro Nuevo Apolo de Madrid!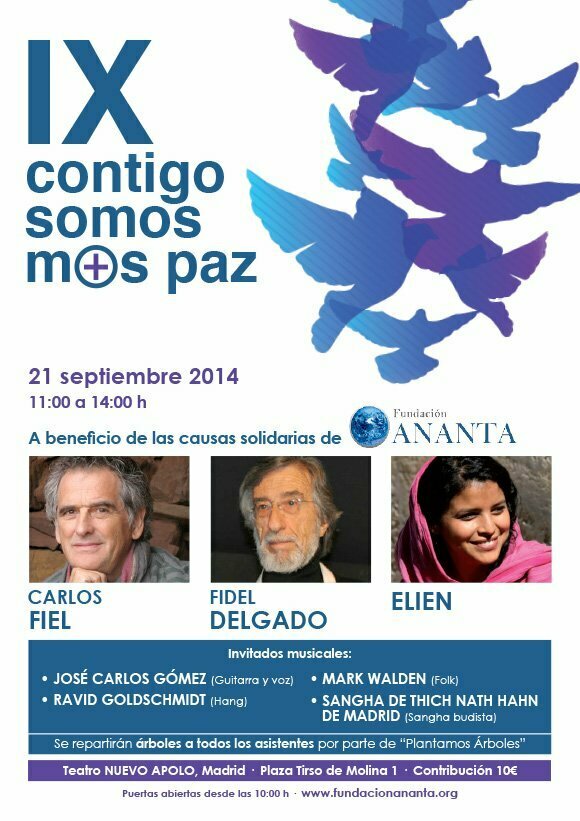 Contará con Elien, Fidel Delgado and Carlos Fiel como ponentes. Cada uno de ellos hablará por espacio de 30 minutos para dar su punto de vista sobre cómo para que haya paz en el mundo es necesario primero que haya paz en cada uno de nosotros. Hablarán pues sobre esa conquista personal e intransferible que es la paz interior, que nos puede llevar a la calma profunda en un mundo agitado.
Este año habrá cuatro interpretaciones musicales de 15 minutos cada una. Los invitados son Ravid Goldshmidt, José Carlos Gómez, Mark Walden and the sangha de Thay en Madrid, que nos propondrá cantar juntos dos preciosos temas sobre la plena consciencia. Haremos también un tiempo de OM colectivo, como en años pasados.
Watch this video: https://www.youtube.com/watch?v=LkZDZjNFWG4&index=2&list=UUoTX4M17fXekG-qVJIELQSA
A la salida los asistentes recibirán el precioso regalo de nuestros amigos de Plantamos Árboles, que entregarán a cada uno de los asistentes un arbolito que han plantado y hecho crecer amorosamente durante un año, con la idea de que cada uno de nosotros lo plante en un lugar ya definitivo y lo cuide, contribuyendo así con 1.150 nuevos árboles al planeta.
La contribución a este encuentro son 10€. Los posibles beneficios se destinarán a financiar las Causas Solidarias of Fundación Ananta. El acto durará hasta las 14 horas y se abrirán las puertas a las 10 de la mañana.
http://www.fundacionananta.org/web/index.php/causas-solidarias-ananta
Los ponentes y músicos participan sin recibir remuneración alguna, y les agradecemos su entrega y generosidad.
Las entradas pueden comprarse en:
Materia Gris, Mejía Lequerica 12, 28004 Madrid
Lunes a viernes de 10 a 14 horas
Por favor llamar antes al 91 445 76 64
Ecocentro, Esquilache 2-12, 28003 Madrid
Lunes a domingo de 10 a 20 horas
Teléfono 91 553 55 02
Hotel Princesa de Eboli, Pablo Picasso, 10 (junto al CC Princesa de Eboli), 28320 Pinto
Permanentemente en recepción
Desdes el 23 de agosto: Pista de hielo La Nevera de Majadahonda
Fresa 14, 28220 Majadahonda
En taquilla de entrada de lunes a viernes de 10 a 14 horas
Centro de Yoga Sivananda Eraso 4, 28028 Madrid, Telef. 913 61 51 50
De lunes a viernes de 10 a 22 horas, sábado y domingo de 10 a 18 horas
El día del evento, desde las 9.00 am en las taquillas del Teatro Nuevo Apolo
Tirso de Molina 1, 28012 Madrid
Para más información por favor enviar un mail a info@fundacionananta.org y contestatemos en el mismo dia.