Teacher training Yoga Studio Barcelona
"Never have been so close to yourself". This phrase summarizes what single Xavier and Pilar Ruberte is the unique gift of deepening into yoga. And is also the motto of the accredited teacher training course of Yoga Studio Barcelona.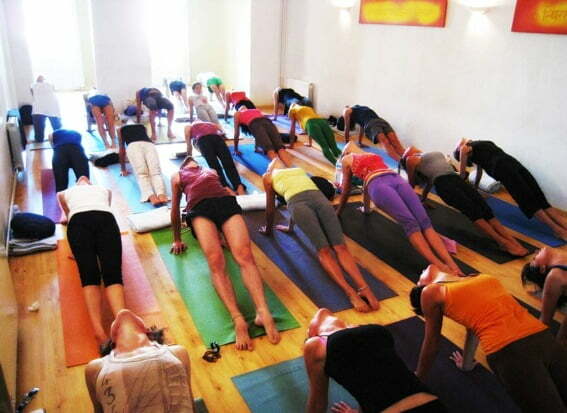 Yoga Studio Barcelona fruit of the concerns of two people, Xavier and Pilar was born naturally. "Since we met yoga, in our early youth, there is another destination for us. '"Study ' and 'Yoga' they are two keywords in our lives, as we live delivered to study and share this ancient science", we discussed.
A team of more than ten qualified teachers with pillar and Xavier share love to the traditional Yoga. So get that yoga practice always translates into greater happiness, energy, vitality and self-awareness.
Single Xavier es cofundador de Yoga Studio Barcelona, psicólogo y buscador… del sentido de la vida. Profesor de yoga desde hace más de 25 años, aprendió y convivió con Swamis y discípulos muy cercanos de Swami Vishnu Devananda. Fue una época enriquecedora en la que compartió y disfrutó de la enseñanza tradicional del yoga (Gurukula).
After teaching in different schools, in 2001, along with Pilar Ruberte they decide to create a space, in the Centre of Barcelona, for those who want to regain peace and contact with one's self through yoga.
Pilar Ruberte He studied auxiliary clinic and Geriatrics. He met yoga at age 19 in Reus, their city home and soon connected with this ancient science. After a few years of practice, he decided to dig deeper and participated in a training course for teachers, which you gave the opportunity of approaching exswamis of organization of Vishnu Devananda, who were a great source of inspiration.
He would later get richer under the influence of other swamis and sincere practitioners. In 2001 together with single Xavier, the most important person in his personal progress on this path of development, they decided to open Yoga Studio Barcelona, as a place for people of the city can approach a major and complete wellness.
Training course for teachers of Yoga 2014-15
This course is aimed especially at two types of yoga students:
• Personas que ya se han introducido en el complejo mundo del yoga y que quieren profundizar en él, sobre todo a nivel práctico, pero también en los aspectos teóricos que sustentan y dan sentido y fuerza a las técnicas yóguicas.
• Personas que tienen el deseo de dar clases de yoga y que quieren formarse como buenos profesores.
Commitments
It will be a course which will, from the beginning, a change (physical and mental) students. To this end, more traditional yoga techniques will be used.
Will need a commitment to two levels:
• Práctico: compromiso de la aplicación diaria de las técnicas enseñadas.
• Estudio de los aspectos históricos y filosóficos relacionados con el yoga. Esfuerzos de comprensión que den un sentido a las prácticas.
The course includes the unlimited class attendance in the Center. If you cannot attend them, you must attend another school or discipline to practice at home six days a week.
Duration, modules and methods
The course will be intense and short, to evolve throughout a year. It starts after the summer, October 2014 October 2015 (resting on the summer months) and with two distinct parts:
1. La primerasix-month, which will be taught the different topics covered in the course. It is a time to set the Sadhana, with unlimited practice in the Center and classes that participants begin to give among them to learn how to teach well.
2. La segunda, of five months duration, which will continue with the teaching, but that group classes are incorporated to improve the capacity to yoga classes.
Diplomas and certificates
At the end of the course be able to receive the Diploma of Instructor or Yoga teacher expedido por Yoga Studio Barcelona. Para su obtención, deberás pasar unas pruebas, tanto prácticas como teóricas, que mostrarán tu mayor o menor aprovechamiento del curso. Si no superas dichas pruebas se te otorgará un certificado de asistencia al curso.
Con respecto a si los títulos que entregamos al finalizar el curso son oficiales o no, decirte que actualmente y oficialmente, en España y Catalunya, se está regulando por ley, la formación de profesores de Yoga.
El Curso de Profesores que impartimos (de 330 h.) forma parte de nuestra Formación en Yoga (550 h.), que se completa con otros módulos y prácticas. Nuestra formación se rige por los criterios y horas de enseñanza señalados en dicha ley (aprobada en agosto del 2011 y en septiembre del 2012) y el título que otorgamos en nuestros cursos te permitirá presentarte a las "acreditaciones de profesionalidad" que se están convocando en Catalunya, para validar el título. La "acreditación" te permitirá trabajar oficialmente como "Profesor de Yoga" en todo el territorio español (y también en Europa). Ahora mismo es el mayor reconocimiento que pueda tener un curso de formación en Yoga. Lo cual te facilitará enormemente poder trabajar en gimnasios y centros importantes o dar clases en lugares que dependan de la administración pública.
Como ves, estamos en una época de cambios a nivel legal, y por este motivo es posible que en el nuevo curso cambien un poco las características que puedas ver en la información que te adjuntamos.
Preconditions
An interview with the teachers of the course is required before enrolling. Also an advantage that you have a minimum practice and knowledge of postures and basic exercises.
Teachers of the course
This course is organized and managed by Pilar Ruberte and single Xavier, founders of Yoga Studio Barcelona. After more than twenty years learning with outstanding yoga teachers and collaborating in the most serious teacher training courses, taught this course of training, in which
seek the personal change all levels and good yoga teacher training.
Other yoga teachers will collaborate to enrich the course.
Where to enroll
To sign up to the single course you have to call or send us an e-mail to the Center and we will send you the registration form.
The course will be held in: Pl. Universitat, 4, 1º 2ª 08007 Barcelona
Do not hesitate to ask for more details on the course if you are interested in it. 93 451 29 28 info@yogastudio.es t www.yogastudio.es
Mira o descarga los temas del curso: http://www.estudiodeyoga.com/castellano/formacion/images/info_ttc_2014.pdf
More information:www.estudiodeyoga.com