"Be and grow with yoga" stage
Tres escuelas de formación de yoga para niños y en la educación han organizado un stage conjunto.
Christine McArdle, Tere Puig y Lídia Serra López son las responsables de las escuelas de formación Om Sri Om, Yoga para Mamás y Bebés y de El Yoga Educa, respectivamente.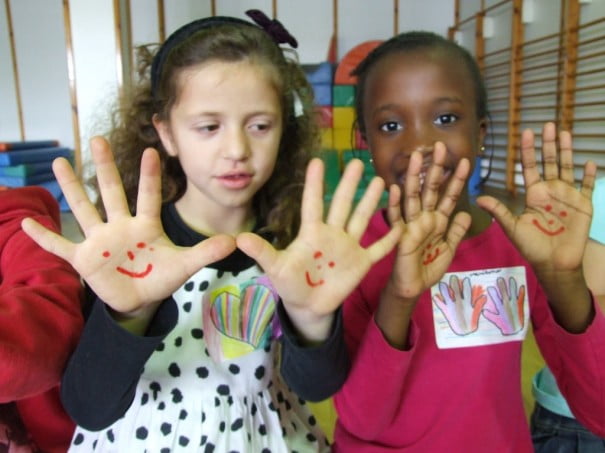 Estos tres proyectos de formación se basan en la aplicación del yoga en los procesos de crecimiento de niños y jóvenes.
Between the days 18 y 22 de agosto estas tres formadoras organizan un stage conjuntamente en la masia El Torn de Sant Ferriol, en La Garrotxa (Cataluña), en el que compartirán sus experiencias.
Program:
Yoga para Mamás y Bebés / www.yogaparamamasybebes.com /
Se ocupa de la primera infancia y la familia. Yoga en familia con bebés y niños hasta 7 años.
Acompañar corporalmente a los hijos: la actitud del adulto que acompaña al niño en la descubierta del yoga.

Tus necesidades, las mías y las nuestras: percibirlas y cuidarlas.

Prácticas yóguicas en familia para el autoconocimiento y apoyo al crecimiento.
Om Shree Om / www.worldfamilyyoga.com /
Se ocupa de la etapa infantil y la adolescencia. Yoga para niños y adolescentes.
Echar raíces para abrir el corazón: confianza, amor y gratitud en la práctica del yoga.

Yo soy, nosotros somos: el yoga para la evolución personal y social.

Prácticas yóguicas para el desarrollo integral de niños y adolescentes.
El Yoga Educa /www.elyogaeduca.com /
El yoga con niños y profesores dentro del ámbito escolar. Yoga en la escuela desde el enfoque pedagógico y metodológico de El Yoga Educa.
Motivación y placer como motor de aprendizaje: cultivándolo desde el yoga

El trabajo personal del profesor

Prácticas yóguicas para un aprendizaje activo en el aula.
Día 1: Introducción a la enseñanza del yoga para niños
Día 2: Yoga para mamás y bebés by Tere Puig
Día 3: Om Sri Omy by Christine McArdle Oquendo
Día 4: El Yoga Educa by Lídia Serra López
Día 5: Experiencias y conclusiones
Y todo amenizado por la magia de la música de Ravi Ramoneda and Manu Om.
"Las tres consideramos que realizar un stage conjuntamente es una manera de enriquecernos munuamente y de dar a conocer las tareas que realizamos cada una de nosotras. Estamos al servicio del yoga, de los niños, los jóvenes, los educadores y las familias. En este stage ofrecemos nuestra experiencia de cómo aplicar las herramientas prácticas y recursos que el yoga nos aporta en diferentes contextos y etapas del desarrollo como estrategia para favorecer el desarrollo integral de niños y jóvenes", comenta Lídia Serra López.
Information and registration:
https://www.facebook.com/events/1483636635206891/
692566950/ eventos@alasblancasbarcelona.com