Walk on the Wild Side
¿Qué encuentro en un profesor de yoga? Un guiño de complicidad. Un derviche extraviado, un hippy, un rockero, un poeta y un payaso. Si miro a un profesor de yoga y veo más duda que certeza, con la segunda bien asentada en el vacío y la primera bien presente en el mundo, me gusta. Escribe Roberto Rodríguez Nogueira.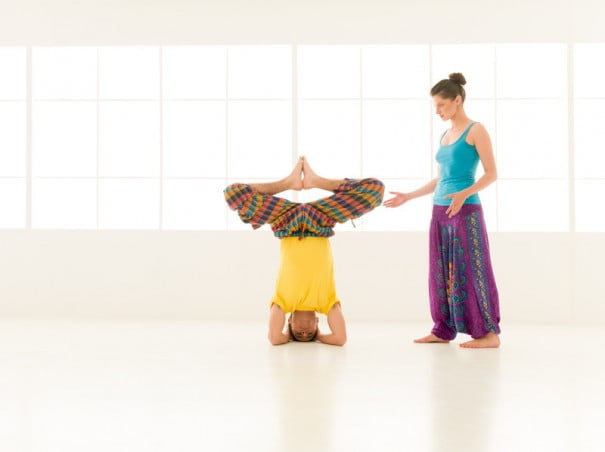 Si en sus ojos veo que sabe que no sabe, me gusta.
Si en su mirada veo que ha rendido las cosas que no son importantes, como la técnica perfecta o la escuela perfecta. Si veo que hay otras en las que no sabe dar un paso atrás, que aunque nada sea responsabilidad suya él se hace responsable de todo. Si veo el brillo de un profundo fanatismo conocido, aceptado y salvaje que no hiere sino que fecunda, me gusta.
En un profesor de yoga encuentro consuelo, alegría y éxtasis cuando me habla, siento elegancia, gracia y fuerza cuando me toca. Me lleno de paz cuando lo recuerdo.
En un profesor de yoga encuentro a mi mejor camarada. Refleja mi yo mejor yo, que es el que echa su brazo sobre los hombros de mi peor yo y le susurra con fuerza: "Adelante, hermano, estamos juntos en esto".
En un profesor de yoga encuentro lo que sé que sé pero no puedo recordar en ese instante. Que no forzar da fuerza, que la fuerza da calma, que la calma da contento y el contento evita la violencia.
En un profesor de yoga encuentro un cuerdo capaz de fingir que está tan loco como yo.
Un radical fanático que no dará su brazo a torcer ni en sus principios, ni es sus fines, ni en sus medios: que mediante el ejercicio de la no-violencia todos los seres alcancen la Paz, que todos los seres alcancen la Luz.
A alguien que sabe equivocarse. Y acertar.
Encuentro la sorpresa: Un profesor de yoga no tiene forma definida ni color determinado, ni tiene por qué ser profesor de yoga.
Encuentro al matemático perfecto, al que sabe que un alumno más un alumno más un alumno más un alumno más… no son tantos euros al mes; son karma, son dharma, contento, agradecimiento.
Y pelos de gato en la camiseta y un corazón de perro.
Who is

Roberto Rodríguez Nogueira teaches yoga, blogger and writer.