2º Encuentro de hindúes de España
Los días 7 y 8 de junio se celebró en Madrid el 2º Encuentro de Hindúes de España. El encuentro tuvo lugar en Jhulelal Mandir, un templo hindú que dirige Lal Chandnani, y que cedió sus instalaciones desinteresadamente. Estuvieron allí reunidos varios colaboradores de
Yoga network
como Alvaro Enterría, David Rodrigo, Swami Satyananda, Javier Ruiz Calderón (Shankara) y Juan Carlos Ramchandani.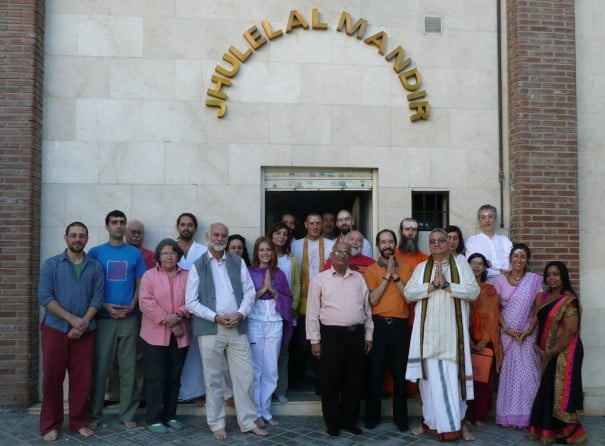 The meeting was organized by the hindu priest Juan Carlos Ramchandani (Krishna Kripa Dasa), hijo de padre indio y madre española. La mesa estuvo compuesta por personas destacadas, pertenecientes a varias corrientes dentro del hinduismo: Swami Satyananda Sarasvati, Omkara Acharya, Javier Ruiz Calderón, Oscar Montero, Álvaro Enterría and Naren Herrero. También asistieron un total de veinticinco representantes de varias asociaciones llegados de Barcelona, Valencia, Bilbao, Ceuta y del propio Madrid.
Hinduism is characterized by admitting in their midst - where coexist in peace - many streams different, with different conceptions and practical but with converging visions. Hinduism also fully supports the validity of other faiths as paths to approach the ultimate reality or God.
En el encuentro se expusieron cinco ponencias y se debatieron diversos temas y problemas que conciernen a los hindúes españoles. Se hizo hincapié en que, aunque el hinduismo proviene y está enraizado en la India, muchas personas occidentales siguen actualmente con seriedad ese camino espiritual, por lo cual es necesario distinguir entre hindú o hinduista (seguidor del hinduismo) e indio (habitante de la India).
Se encuentra ya en estado muy avanzado de formación la federación de entidades y organizaciones religiosas hindúes, entre los objetivos de la federación figuran:
Get the official recognition of Hinduism by the Spanish Government, together with the certificate of "notorious rooting".
Be a point of encounter between the Asian Indians and Spaniards.
Promote a correct vision without distortion or prejudices of Hinduism.
Create a platform for common work on various topics related to Hinduism.

La publicación de una revista con artículos de expertos dedicada a un público con poco o medio conocimiento de la espiritualidad hindú.

Fomentar el dialogo intrarreligioso entre las diferentes escuelas del hinduismo, y el dialogo interreligioso con otras confesiones.
Contact person:
Juan Carlos Ramchandani (coordinador Encuentro)
Móvil:
638 738 662
E-mail:
ramchandanijc@gmail.com
Blog:
http://jcramchandani.blogspot.com.es/