Freedom behind bars
The Association World Prem, which aims to teach free yoga groups disadvantaged or at risk of social exclusion, presents the documentary on Wednesday, June 4 Freedom behind bars, fruit of the experience offer yoga classes to Brians I of Barcelona, with which World Prem already weekly works since 2010 prison.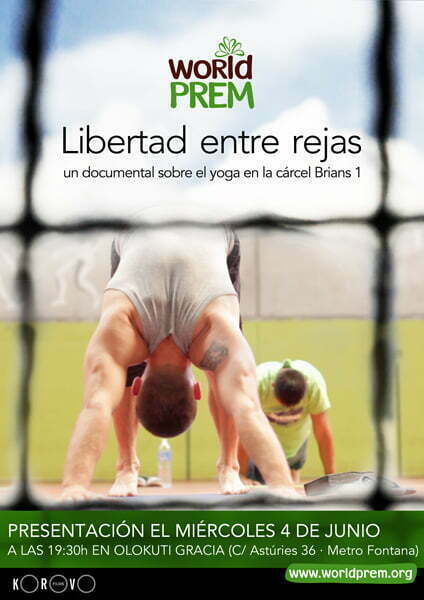 Bars open, opens another way of understanding what is being imprisoned.
Prison made of walls and gates, holds individual physical freedom as we understand it, but there is another kind of freedom: that of the mind, body, and spirit.
Mind is dam of our thoughts and our conception of the world, the body is prisoner of tensions, rigidity and inflexibility.
The practice of yoga, through movement, breathing and meditation, leads us to free ourselves from this internal prison and open us to change, personal transformation.
In 2010 the prisons of Catalunya open their doors to the NGO World Prem to launch program breathes joy, offering free yoga classes to people without resources and social exclusion through volunteer teachers seeking to offer inmates inspiration for change. Since there are many who have lived this experience.
Freedom behind bars us closer to the life of several of the inmates who participate in yoga classes and that in the summer of 2013 were part of an intensive program of World Premier of 40 consecutive days of yoga. Men and women of different nationalities and different stories, show how yoga has touched their hearts together in a same search: freedom behind bars.
A World Prem and Korovo Films documentary. Made by Elisabet Sort and Octavi Royo. Produced by Anna Traginer and Daniela Troconis Daly
Presentation of the documentary:
Wednesday, June 4
At 19:30 in Olokuti Gracia (Barcelona)
C/Asturies 36 · Fontana Metro
More information and contact: Daniela Troconis Daly. Tel 610-992-715. oneheart@worldprem.org / www.worldprem.org
Watch the documentary: