Never silence has given so much to talk about
During the practice of yoga I recommend talk as little as possible, no reviews, no more questions than the strictly necessary. I myself, as a teacher, try to talk little. Why? Joaquín G. Weil writes. Dr. José Ignacio García Acosta photography.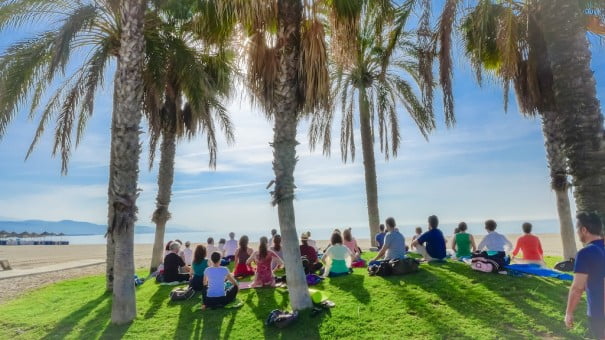 One of the things that most surprised me when I met zen and meditation in general is how a practice of silence could generate that such a huge amount of books and speeches.
There are also a few jokes around silence, both inside and outside of zen, but I prefer to remain silent. There are also quite a few sentences and maxims of wisdom on silence. But I prefer not to mention.
Although... by putting just one case: the monumental Shobogenzo the Japanese zen master Eihei Dogen, publication in Spanish is a commendable personal efforts of Pedro booby, and that was how successful a classic of zen philosophy of the 13th century can be, where a Cioran It could driving a wedge, it is polished by centuries of neti-neti, or thinking this or that or much less what's beyond.
This is a bit like the of the ancient Greek philosopher Pythagoras of Samos hablando detrás de una cortina, como dicen que hacía. Ea, adiós al ego, a los problemas de imagen y a la imagen del ego. Podemos hablar, leer y escuchar sobre el silencio porque nos encandilamos con el silencio mismo y simulamos que no existe la propia voz que habla del silencio, como quien va al cine y, como es natural, mira la película y no hacia el proyector que está arriba.
La inmensa paradoja es usar la charla escrita o hablada para silenciar el parloteo interior.
Y por poner un caso más cercano, Biografía del Silencio, of Pablo D'Ors, que tanto está impresionando a sus lectores. Pablo d'Ors, que viene de la esfera de la literatura, la intelectualidad y la doctrina católica, nos narra su experiencia en la meditación. Pienso que entonces se trata ciertamente de una "biografía hacia el silencio" y que a mí me ha resultado un tanto como ensayo à clef, donde procuro averiguar las fuentes budistas o zen de sus indagaciones, aparte de la tutela declarada de la filósofa mística Simone Weil. It's a brave and generous delivery, because something so not can write ex officio, but represents the sincere development of the soul. Almost a personal exercise of evolution to the high price of contrasting meditator spontaneous experiences to a broad audience.
Andalusian zen masters
And, finally, Zen in the market square, and is not a Japanese market, that insurance is very zen, but a market of supplies of, at least, Seville.
By establishing a close clear, the teacher Ufano Alonso, soon as you have written, to my knowledge, a few articles. Dokushô Villalba She has written, translated, edited or prefaced dozens of books.
Lo impresionante del caso, con todo, para los que hemos conocido la España de los años sesenta del pasado milenio, es cómo un chaval de Coria del Río y otro de Utrera han conseguido ser maestros zen (y de los buenos) con o sin el Shiho (el sello de la iluminación), con o sin Kiosaku, que es el palo japonés con que los maestros zen de Andalucía varean los lomos de sus discípulos para que caigan maduras las aceitunas de la iluminación.
En ocasiones ocurre que, para quien tiene la mente revuelta y ardiente de disquisiciones, hasta las máximas de sabiduría son combustible para las vanas llamaradas del intelecto exacerbado.
Una experiencia singular en los cursos de Vipassana de la escuela del recientemente fallecido Goenka, donde se viven nueve días de silencio de cualquier expresión verbal hablada, escrita o gestual, es cuando, en el décimo día, se vuelve a hablar y las palabras afloran de modo esforzado. Y es que las palabras pertenecen a la capa exterior del cerebro y de la mente. El silencio nos conduce directo hacia los estratos más profundos de nuestra personalidad, también durante la práctica de las yogasanas. Nos permite enfocar las energías hacia esas esferas universales o inconscientes, cuyo logro ejercitan o debieran ejercitar la concentración y la absorción en los movimientos y posiciones del propio cuerpo, o sea, todo yoga merecedor de su buen nombre.
Tal así, el discurso sobre el silencio pretende tener la última palabra, casi como quien quiere decir lo último en un debate dialéctico y quedarse tan ancho y tan a gusto.
Pero también en el zen existe la voz del valle o el rugido del tigre, el "¡Khatz!", grito guerrero del maestro que quiebra no ya el silencio, sino también el parloteo de la mente misma. Ambos.
Es como el "Om" y mucho más el mantra "Aum", que abre bien las mandíbulas liberando viejas tensiones en la garganta y el cuello, atrapa la mente al vuelo como a un pajarillo, quiere abrirle la jaula de sus pensamientos circulares que lo aprisionan, y por fin la arroja libre hacia el azul profundo de su esencia. Y concluye el mantra en un cerrar de boca a partir del cual el silencio comienza a predicarse a sí mismo. Cuando la mente calla, habla la Intuición, el Buda o Dios. Punto y final y no digo más. Aum.
Who is

Joaquín García Weil graduated in philosophy, yoga teacher and Yoga room Málaga director. Practice Yoga for 20 years and teaches it since makes eleven. He is a student of Swami Rudradev (leading disciple of Iyengar), with whom he has learned in Yoga Study Center, Rishikesh, India. He has also studied with Dr. Vagish Sastri de Benarés, among other masters.

More information: http://yogasala.blogspot.com Facebook: https://www.facebook.com/yogasala.malaga