First visit to Madrid from the 41st Sakya Trizin
Los próximos 23 y 24 de mayo visitará Madrid, por primera vez, el Sakya Trizin Ngawang Kunga, segundo en protocolo religioso después del Dalai Lama y cabeza de la escuela Sakya.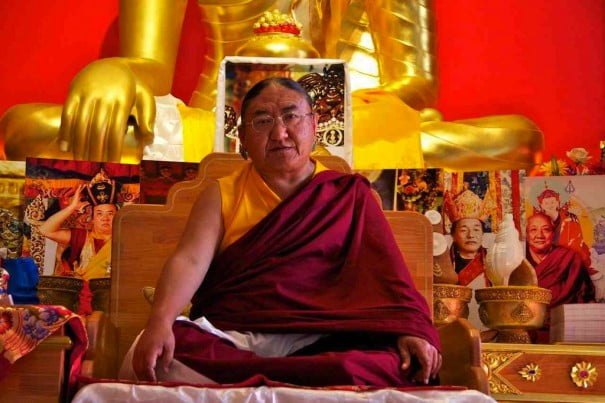 Sakya Trizin Ngawang Kunga es el representante de la escuela Sakya, una de las cuatro escuelas del Budismo Tibetano que destaca por su filosofía precisa. Conocida también por vertebrar una vasta recopilación de las doctrinas y conocimientos de todas las tradiciones budistas.
El 41º Sakya Trizin es un sabio de nuestros tiempos, una eminencia dedicada al saber desde su más tierna infancia y un vivo portavoz de enseñanzas que datan de más de mil años adquiridas a lo largo de su vida a través de diferentes notables maestros.
Podremos conocerle en Madrid, en las jornadas del 23 y 24 de mayo que se celebrarán en el Instituto Ramiro de Maeztu (C/Serrano 127). Visita por primera vez Madrid gracias a la invitación de la Fundación Sakya (CIDEB), Centro Internacional de Enseñanzas Budistas, con sede en Pedreguer, Alicante. El CIDEB es un lugar de difusión y preservación del budismo, en particular de la escuela Sakya, una de las cuatro líneas espirituales del budismo tibetano, bajo la dirección espiritual de S.S. el Sakya Trizin
La invitación es abierta y generosa: budistas o no, religiosos o no, todas las personas amantes del saber estamos convocadas a aprender y disfrutar de la presencia de este gran erudito. Sus enseñanzas gozan de absoluta actualidad y aplicabilidad brindando claves y herramientas concretas para gestionar lo convulso de nuestro presente, siendo una inspiración a vivirlo desde un lugar más habitable.
Desde aquí damos la bienvenida a este maestro de maestros, desde el profundo deseo de que sean más las palabras sabias que resuenen en el espacio público.
Información de contacto
Portavoz: María Jesús Garay Echeberría

Cargo: Coordinadora Madrid

Nombre de la asociación: Fundación Sakya

Teléfono: 91 559 6707

E-mail: madrid@paramita.org

URL del evento:

sakyatrizinmadrid.com

URL de la asociación:

fundacionsakya.org
Otros eventos
Denia, Alicante
28-29 de mayo
Sakya Drogon Ling
http://www.sakyadrogonling.com/
Pedreguer, Alicante
30 de mayo a 16 de junio
Centro Internacional de Enseñanzas Budistas
www.meditacionbudista.org
Barcelona
18 al 26 de junio
Sakya Gephel Ling
sakyagephelling.wordpress.com
Gira de S.S. Sakya Trizin en Europa
http://www.hhthesakyatrizin.org/schedule_2014_all.html