Stories to share / Oh Rishikesh
Después de seis años en Rishikesh, David Rodrigo y su familia han regresado a España. David enseñaba las escrituras y coordinaba el Dhyana Gurukulam en el ashram de Swami Rama Sadhaka Grama, donde han vivido hasta ahora. Hoy busca trabajo en España, para seguir aportando la Luz que ilumina el siguiente poema. ("Si alguien quiere estudiar Vedanta conmigo u organizar programas, yo aprenderé enseñándole", dice. Su correo: drodrigog@yahoo.es)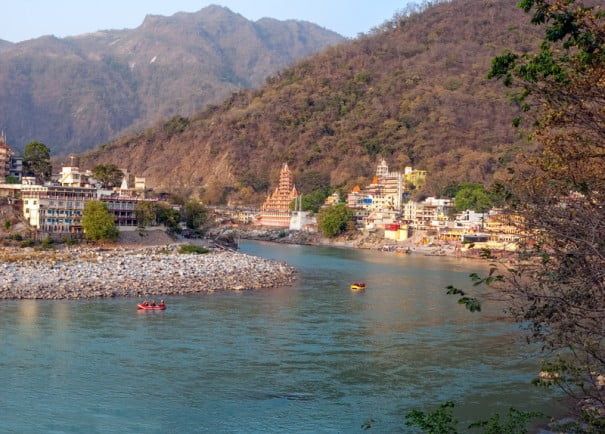 Oh Rishikesh,
en ti he muerto
y renacido en la eternidad.
A los pies del Guru.
En el vientre de la Ganga.
Fundido en su arena blanca,
impoluta a la mierda animada e inanimada.
Bajo el Sol del Vedanta
y la Luna de mi Amado.
Sus cartas secretas,
mis poemas,
mi adoración.
Absorbido por mi Señor.
No sé bien por qué
ahora debo regresar
a lo que llaman mis raíces,
cuando mi árbol está invertido,
cuando ya no hay regreso.
…
Oh Madre Ganga, déjame besarte por última vez
con mis lágrimas.
Oh Madre, ¡no me dejes ir!
Dios, ¿qué me pasa?
Dejarte me arranca las entrañas de rabia y dolor.
Es una conexión infinita.
Oh Madre Ganga, no ve a Dios quien no llora por Dios.
La misma brisa, el mismo Sol,
la misma tierra, la misma agua.
La misma Paz.
Tú, oh Madre, eres Eso.
I am that.
Todo no es sino Eso,
Peace.
OM
david
Rishikesh, 27 de marzo de 2014
…
Primer amanecer en España.
Primera meditación en un parque,
entre mierda de perro,
en lugar de vaca,
con viento de helor
y transeúntes interrogantes,
en lugar de sadhus.
La misma Paz, el mismo Ser.
Plenitud.
Oh Rishikesh.
OM
Who is

David Rodrigo He has studied, contemplated and experienced the Scriptures)Bhagavad Gita, Yoga Sutras, Upanishads, Brahma Sutras, etc.) in Rishikesh, India, during six years in the tradition of Advaita Vedanta of Adi Shankaracharya with Dravidacharya Ramakrishnan Swamiji and meditation in the tradition of the Yogis in the Himalayas on Swami Rama Sadhaka grass Ashram (Swami Veda Bharati).

It has transmitted the Scriptures in this ashram and coordinating the Dhyana Gurukulam. He now resides in Spain.