Sunyata in concert
El grupo Sunyata se reúne para ofrecer en Madrid un concierto de entrada y aportación libres. Una oportunidad a no perderse el próximo sábado día 22. Con la presencia de Nantha Kumar confirmada.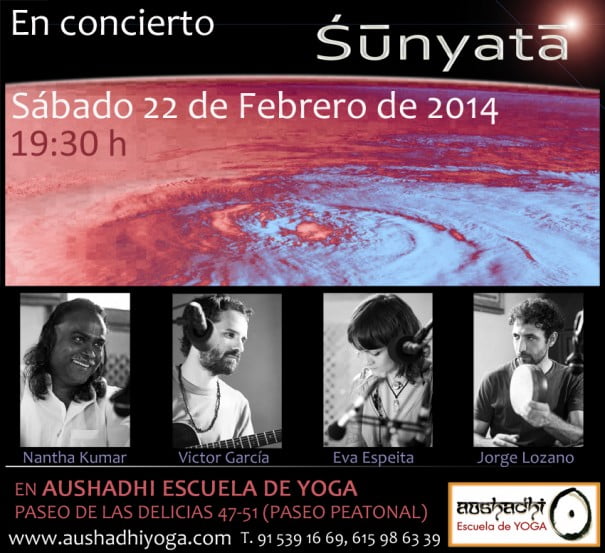 Sunyata es un proyecto multidisciplinar de investigación en el que trabajan con el sonido como herramienta para la sanación, armonización y acceso a estados de integración y expansión de la consciencia. Como proyecto musical nació en la primavera de 2013 basado en la fusión de las experiencias y capacidades de sus cuatro músicos integrantes.
Inspirados por una diversidad de tradiciones de mística sonora (Canto Védico, Tantra, Bhakti, Kirtan, Bhajan, Dhrupad, Ícaros Chamánicos), el grupo trata de conectar con esta tradición ancestral de repetición hipnótica para reinventarla y generar, desde la música, acontecimientos colectivos de bucle circular que nos conduzcan a experimentar estados de relajación profunda, silencio mental, intensa concentración, trance y, en última instancia, trascendencia del plano dual.
Sunyata form:
Nantha Kumar: Master of the table internationally. Table, Kanjira, voice.
Eva Espeita left

(Swamini Radhananda Saraswati): Maestra de Yoga Integral, Canto Dhrupad y Canto Tradicional Indio, Música India. Voz, armonio.
Victor G. Cruz (Aporía):

Nada Yoga, Canto Dhrupad, Minimalismo, Música India. Voz, guitarra, bajo fretless,canto armónico.
Jorge Lozano:

Especialista en percusión, folklore del mundo. Tabla, Pakawach, Kanjira, Moarsing, Oud, canto Kargyraa.
When: 22 de febrero las 19:00 hrs
Where: Aushadhi Yoga school. Paseo de las Delicias 47-51 (pedestrian passage) Madrid
Free price. Es un sistema de economía alternativa por el cual cada persona decide, desde la libertad y la honestidad, cómo puede y desea retribuir un bien o servicio del que disfruta, no tanto en términos de "valor mercantil" obligado y excluyente (precio), sino como una autoimplicación consciente, una aportación voluntaria al proyecto en cuestión para que aquello de lo que se ha disfrutado pueda seguir existiendo en un futuro (en este caso, el enorme estudio y dedicación de los músicos, así como el uso y gastos del espacio de Aushadhi). Libre significa libre, que cada cual decida desde la libertad y la honestidad.
More information: http://www.aushadhiyoga.com/musica-sunyata.html
See video: http://m.youtube.com/watch?v=lsyjS7iu7g0