The keys to OnLine training
La distancia es una oportunidad para crear la forma ideal de acercarnos. Los recursos tecnológicos hacen posible una Formación OnLine directa y de primera calidad. Estas son las claves de la Formación OnLine en la Escuela Internacional de Yoga. ¡Abierta la matrícula de Instructor de Yoga 2014!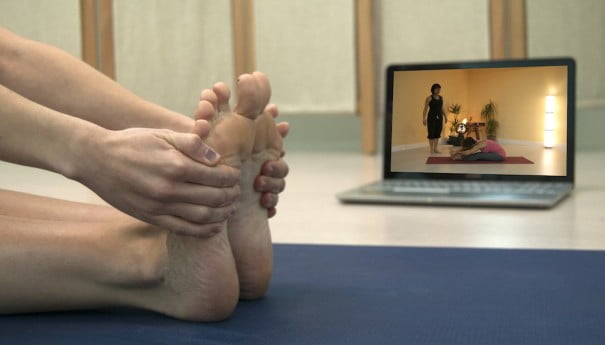 1. Tecnología avanzada y facilitadora
El acceso a los contenidos del curso se realiza en un entorno de red muy cercano y de fácil manejo. El alumno recibe documentos en Vídeo, en PDF y a través de los encuentros personales online con sus Formadores y Tutor. La Formación que recibe es práctica y asequible.
2. Tutoría Individual
El alumno inscrito en el curso recibe la atención constante de un Tutor Personal. Cuenta con un seguimiento especializado que le ayuda a profundizar en los contenidos del curso así como en lo más importante : su práctica personal y su proceso de crecimiento.
3. Reunión con Formadores y Compañeros
Todos los meses se realiza una videoconferencia con el propio grupo y uno de los Formadores de las materias que componen el Programa. En este encuentro, el alumno tiene la oportunidad de escuchar en directo algún tema relevante y preguntar sus dudas o exponer sus ideas.
4. Grupo de Reflexión y Estudio
Cada alumno forma parte de un grupo durante todo el curso. Junto a sus compañeros y formadores tienen un foro privado en el que comparten sus trabajos y reflexiones cada semana. Es el entorno ideal para enriquecerse e integrar los temas del programa que se van presentando.
5. Encuentro Residencial
Al finalizar el curso se realiza un Encuentro de 4-5 dias con los Formadores, tutores y compañeros del curso. Es una experiencia única cuyo objetivo es la profundización, la práctica y la conclusión del gran proceso transformador que la Formación ofrece.
Toma nota: Todavía estás a tiempo de matricularte en el Curso de Instructor de Yoga Nivel 1 Modalidad OnLine.

Este curso proporciona un importante crecimiento integral. Aporta las condiciones necesarias para acometer un gran paso en el propio camino de evolución. Ofrece las bases y principios del Yoga para una vida de Paz y Armonía. La Metodología consiste siempre en buscar la simplicidad, la sinceridad, la honestidad y la vivencia directa.

A través de la técnica y la comprensión de las posturas, el movimiento y los elementos que componen una clase completa de Yoga, el alumno adquiere una adecuada preparación tanto teórica como práctica.

Headquarters:
Calle de Fuencarral, 134
(input by * Albuquerque *)-28010 Madrid
Tel.: 914 16 68 81 - 648 07 88 64 / info@escueladeyoga.com
www.escueladeyoga.com

www.escueladeyogaonline.com

Madrid - Barcelona - Elche - Mallorca - Santiago - Cadiz - Latin America