Book: The power of yoga
Cuidada reedición de una obra que es "el libro más completo" de los escritos por Ramiro Calle, en palabras del propio prolífico autor. "Demoré tres años en hacerlo", explica. Con sus 520 páginas, se trata de un exhaustivo "resumen" de su método y enseñanzas.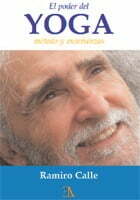 Compendio del conocimiento yóguico del gran maestro español, El poder del yoga es una obra sólida e indispensable para los seguidores de Ramiro Calle. "Creo que hacia falta -nos Ramiro-, pues a veces se hace un reduccionismo bochornoso del inmenso campo de conocimientos que es el yoga".
The book
Precio 33 €

520 páginas

Librería Argentina Ediciones

Ilustrado con numerosas fotografías en blanco y negro
The author

Ramiro a. Street es especialista en temas orientalistas y pionero en la introducción del yoga en España. Profesor desde hace tres décadas, sus estancias anuales en la India, le permiten mantener contacto con las personas relevantes en los temas de orientalismo y los grandes maestros del yoga. Sus colaboraciones en periódicos, revistas y medios de audiovisuales son innumerables.

Ha escrito más de un centenar de libros de diversas temáticas, en su mayoría filosóficas o espirituales, aunque también recopilaciones de cuentos y guías de viajes. Desde 1971 dirige el Centro de Yoga Shadak, por el que han pasado miles de personas.También ha impartido clases en la Universidad Autónoma de Madrid, y ha dado conferencias en otros lugares.

Sus viajes a la India ya contabilizan más de cien, y para conmemorar el centenar de ocasiones que ha estado en ese país ha publicado el libro titulado 100 viajes al corazón de la India, donde relata sus vivencias desde los Himalayas al Cabo Comorín, desde Mumbai a la Bahía de Bengala, estableciendo contacto con sus gentes, costumbres y modos de vida.