Yoga Music Experience sounds again
¡Todo listo para la experiencia del día 9 de noviembre! Yoga, música y danza. Tu cuerpo y tu alma. Con todo y con todos.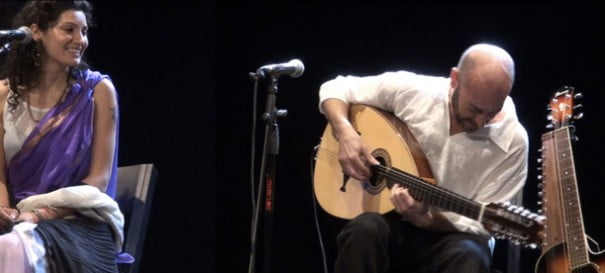 El sábado día 9, clase de Yoga Shakti Dance, a las 19:30, y concierto de Yoga Music Experience a las 20:30, experiencia de un viaje interior a través de la música, que cada vez nace distinta, pues surge de la improvisación, inspirada en la energía que se crea con el público. Con Martha Tena and Chema Vílchez.
En Offlimits, Calle Escuadra 11, Lavapiés. Madrid
Yoga Music Experience It is a music show live created with a fundamental purpose: invite you to live an intense emotional experience, to develop a State of deep peace immersing yourself in a dimension filled with energy positive.
You'll find a sound universe full of beautiful melodies, unforgettable songs, rhythms and dances immersed in a multicultural context where World Music, Rock, Jazz, Ambient, progressive hand in hand with the color and the sound of East, Yoga and their philosophies.
Otros conciertos de Yoga Music Experience en Madrid
17 de noviembre: Concierto en la feria Biocultura.
27 de noviembre: Presentación del espectáculo Yoga Dance Experience, en el Teatro Sol de York.
14 de diciembre: Presentación del disco Unity en Espacio Ronda.