Hindu symbols, new book by Enrique Gallud Jardiel
Tal vez el indólogo más destacado de España, Enrique Gallud Jardiel ha publicado decenas de libros interesantísimos sobre la cultura del subcontinente asiático. Y, sí, en efecto es nieto de Enrique Jardiel Poncela, a mi parecer uno de los autores más destacados en lengua hispana de todos los tiempos. Escribe Joaquín G. Weil.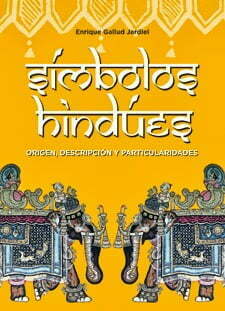 El libro que ahora nos entrega lanza el foco en uno de los asuntos esenciales de la cultura y el arte indio y que lo diferencia de nuestra cultura y arte. El célebre maestro de yoga B. K. S. Iyengar decía que las asanas yóguicas son iconos para la mente. ¿Y qué tiene esto que ver con el asunto que nos ocupa? Pues, sin ir más lejos, sin excepción todas las figuras de dioses, sabios y santos de la India están representados en alguna asana yóguica o mudra, como ya tuve ocasión de explicar en otro lugar http://www.revistadharma.com/artedharmico.html.
La riqueza icónica del arte y la cultura india va todavía más allá y abarca también los "vehículos" de los dioses y diosas, animales totémicos que simbolizan una cualidad del dios: el toro Nandi de Shiva, que simboliza esa energía suave, poderosa y constante del patrón del yoga, etc. También los animales totémicos de cada chacra, que representa las cualidades de las energías que rigen cada zona del cuerpo; la serpiente kundalini en el coxis; los colores, tampoco nada casuales, sino con un significado, o mejor, con unas cualidades determinadas y que representan toda una enseñanza útil y curativa como el Neel Kanth (la garganta azul) de Shiva; las sagradas plantas de los pies del Buda, raíz y residencia de la energía en nuestro cuerpo; la riqueza de los yantras, corazones de mandalas que lanzan sus símbolos en las cuatro direcciones, etc.
We could go on putting examples in an article, not a whole book. And that is precisely what makes Enrique Gallud Jardiel: a successful selection of these symbols so expressive, precise and rich in content.
Considero que este compendio interesa no sólo a los amantes del arte en general y la cultura india en particular, sino también a los buscadores de la sabiduría que quieran conocer un lenguaje que conecta directo con el inconsciente, la intuición y las fuentes del conocimiento profundo.
Hindu symbols, Enrique Gallud Jardiel (Publishing wings, Barcelona)
Who is

Joaquín García Weil graduated in philosophy, yoga teacher and Yoga room Málaga director. Practice Yoga for 20 years and teaches it since makes eleven. He is a student of Swami Rudradev (leading disciple of Iyengar), with whom he has learned in Yoga Study Center, Rishikesh, India. He has also studied with Dr. Vagish Sastri de Benarés, among other masters.