Rainbow Kids Yoga, training teachers for children and families
Después del éxito de anteriores convocatorias, por fin va a tener lugar un nuevo curso de profesores de Rainbow Kids Yoga, la formación de yoga para niños más conocida internacionalmente. En Madrid, del 22 al 24 de noviembre.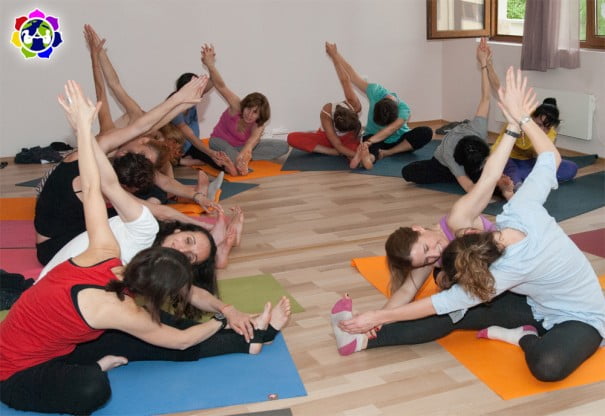 El Entrenamiento para Maestros de 3 días de Rainbow Kids Yoga es un curso certificado, exhaustivo, intenso y práctico. Prepárate para practicar y aprender a enseñar Yoga, ¡mientras te ríes, bailas, juegas y cantas!
El Entrenamiento de Rainbow Kids Yoga es muy completo e intenso, con teoría práctica, discusiones y ¡mucha diversión! Lo más importante es que saldrás de ahí con un conocimiento directo y tangible e ideas fabulosas que te servirán para crear experiencias originales, cautivadoras y divertidas de yoga para niños de todas las edades en el mundo entero.
El curso es para cualquier persona que ama trabajar con niños y ama el yoga (no se necesita ser instructor de yoga para hacer el curso):
Para maestros de yoga que se quieran especializar.

Para educadores que quieran introducir los beneficios del yoga en sus clases.

Para los padres que quieran compartir una actividad dinámica sana, divertida y no competitiva. Encontrarán nuevas maneras de conectar con sus hijos y familia.

Para cualquier persona que quiera expandir su profesión o ¡aprender una nueva!
Los graduados Rainbow Kid Yoga pueden enseñar en cualquier lugar con nuestro diploma; escuelas, guarderías, centros comunitarios, estudios de yoga, gimnasios, en fiestas de cumpleaños y de manera privada.
Rainbow Kids Yoga is a registered school as 500 Hour Registered Yoga School with Yoga Australia, 200 Hour Registered Yoga School with Yoga Alliance UK, as also Registered Yoga School and the US Yoga Alliance for Children Yoga and Pregnancy Yoga with Yoga Alliance UK.
Click here for all the details: http://rainbowkidsyoga.net/trainings/madrid2/madrid_training.html
Para contactar: info@rainbowkidsyoga.net