The riddle of life
La vida es un gran koan que no puede resolverse a través del pensamiento. Es un misterio, a veces pavoroso, a veces fascinante. El ego se rebela, pero nada logra así obtener. Escribe Ramiro Calle.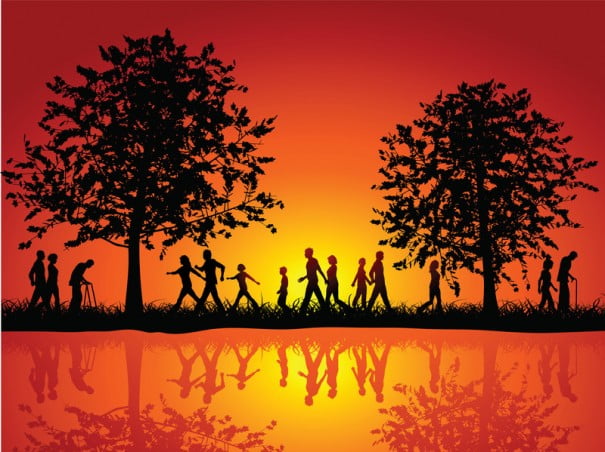 Hay una historia que recojo en mis obras de narraciones espirituales de Oriente:
Un mono se encuentra en una habitación sin ventanas ni puertas. Empeñado en salir, se golpea una y otra vez contra los muros. Exhausto se deja caer en el suelo y acepta la situación. Entonces, ¡milagro!, descubre que está libre.
Ante el misterio de la vida, vive. Ante el acertijo de la vida, rinde el ego. Ante la imprevisibilidad de la vida, halla refugio en ti mismo. Ante la incertidumbre, ama.
El funámbulo sobre el alambre no especula ni elucubra. Avanza. Bastante tiene con no perder el equilibrio. En el alambre de la vida, camina.
La vida es un viaje, plagado de hallazgos y perdidas, encuentros y desencuentros, triunfos y derrotas, amores y desamores. Ya sabemos todos cuál es la estación final: es la única certeza. Se puede realizar el viaje desde la consciencia o desde la penumbra; desde la compasión o desde la crueldad.
Tanto tiempo invertimos en lo que pudo ser o será que no vivimos. Tanto nos apegamos, que no estamos en apertura para recibir.
La vida nos presenta toda clase de rostros. Míralos y seguirás aprendiendo, pero si dejas de mirarlos te has estancado en el proceso del aprendizaje.
Viajeros en el camino espiritual
Los viajeros que nos encontramos en el viaje existencial son muy valiosos. Unos enseguida salen de nuestras vidas, pero otros permanecen, y a éstos les llamo "coincidentes vitales". ¡Qué fortuna haber coincidido con nuestros padres, hermanos, amigos! Todos los días agradezco al destino haberlos hallado en el imprevisible viaje de la vida. Gracias a ellos merece la pena este recorrido.
No creo en ese truco de la Nueva Era de que venimos a la vida para aprender (de nuevo, ego), pero sí en que ya que estamos realizando el viaje de la vida, mucho podemos aprender. Se requiere humildad, consciencia, desapego, compasión y un poco de sosiego. Los antiguos guerreros espirituales lo sabían muy bien: "Cada uno tiene que librar su propia batalla". Pero también, como Buda, que "más importante que vencer a mil guerreros en mil batallas diferentes es la conquista de uno mismo". Y, por supuesto, que la ley eterna nos lo dice: nunca el odio puede ser vencido por el odio; es solo por el amor que el odio puede ser vencido".
Un ejercicio diario de meditación, aunque sea tres minutos: en recogimiento, deja que la energía del agradecimiento más profundo surja hacia tus "coincidentes vitales". ¡Que dichosos tenemos que sentirnos por haberlos encontrado en el asombroso e inexplicable viaje de la vida! ¡Cuánta hubiera sido la soledad sin ellos! ¡Cuánta la tristeza!
Calle Ramiro

More than 50 years has been Calle Ramiro teaching yoga. He began teaching at home and created an Academy of yoga correspondence for all Spain and Latin America. In January of l971 opened its Yoga Center Shadak, that have already passed more than half a million people. His 250 published works include more than fifty devoted to yoga and related disciplines. He has made Yoga the purpose and sense of his life, having traveled a hundred times to India, the homeland of yoga.

Watch the Calle Ramiro Facebook:
https://www.facebook.com/pages/Ramiro-ACalle/118531418198874