International Day for peace
En 1981 la Asamblea de Naciones Unidas declaró el 21 de septiembre como el Día Internacional de la Paz. Hay muchas formas de celebrar este día: congresos, conferencias, manifestaciones… Pero quizás la mejor idea para celebrar la paz que tanto deseamos en nuestro mundo es precisamente SER PAZ. Comparte la Sangha de Thich Nhat Hanh en Valencia.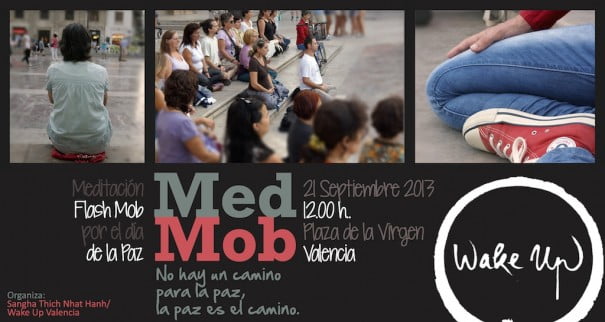 Al fin y al cabo fuera y dentro son ilusiones, nos lo dicen los grandes maestros como Thay. Si logramos transformar la violencia y agresividad dentro de nosotros estaremos ofreciendo paz a nuestro alrededor, expandiendo comprensión y amabilidad.
Crear silencio y paz, aunque sea por unos instantes, es muy fácil. La receta es tremendamente sencilla y los ingredientes básicos son tres: parar, sonreír y respirar. Todo a fuego lento y con la compañía de friends en el camino, mucho mejor.
So este sábado 21 de septiembre a las 12:00 estás invitado a participar en Meditación Flashmob en la Plaza de la Virgen de Valencia. La acción consisitirá en una meditación sentada en silencio de 35 minutos. Nos sentaremos en los escalones de la plaza, cerca del portal gótico de la catedral. Alguien llevará una pequeña campana con la que marcará el inicio y el final de la meditación. Así de sencillo.
A meditation outdoors, in the context of a square, in a city, is an opportunity to discover that we can find peace within ourselves despite the hustle and bustle or busy outside life. Sit sipping that balance between inside and outside, silence and sounds, prying eyes and smiles.
Just bring a smile, your presence and something to sit if want a little more comfort, though the steps of the plaza do good role.
Indicaciones: All the Flashmobs begin with spontaneity, from the complicity of the people that suddenly begins to sing opera in the market or to dance a choreography in a station of train. In that spirit we encourage you to that upon arrival you settle in meditation and not to speak with us before meditation, nor present us, just come and sit around someone who will have a campaign on his lap. When we finish we can talk whatever we want!
Trata de llegar puntual: Mejor si estás sobre las 11:45, "de incógnito" por la plaza, para comenzar a las 12:00. Momento en el que escucharemos tres sonidos de campana, ese es el inicio de la meditación. Nos sentaremos en meditación unos 30 minutos y para finalizar sonarán otros tres sonidos de campana. Si llegas tarde no te preocupes, siéntate cerca y ya está.
We will try to connect with that place of inner silence and acceptance. Giving away our presence, stillness and calm to all those who pass... you may ask what we are doing, perhaps you already know it and smile.