Next Sunday, meditate for peace
El próximo domingo 15 de septiembre reservaremos la mañana a este acto que celebra la paz y la fraternidad y que ya es un clásico en su género. El VIII Contigo Somos + Paz empezará este día a las 11 de la mañana y será este año en el Teatro Nuevo Apolo, Tirso de Molina 1, de Madrid, con aforo para 1.150 personas.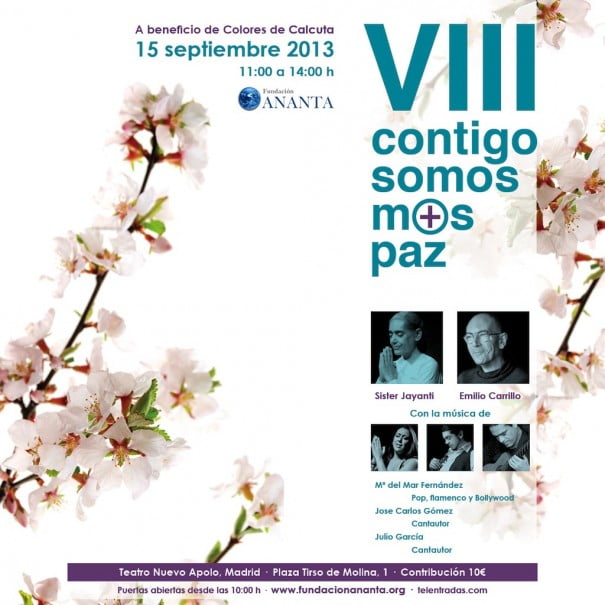 Este año cada asistente recibirá como regalo un pequeño árbol con su correspondiente cepellón para ser crecido allí donde estime oportuno plantarlo. Se trata de una preciosa iniciativa de Ildefonso García, que lleva años cultivando árboles para regalarlos, en número de 33.000 hasta la fecha, todo de forma altruista y en su tiempo de ocio. La semilla del árbol que crece primero en forma de planta y luego potencialmente en forma de poderoso árbol es un buen símil de lo que se pretende con este acto Contigo somos + Paz, pues todos tenemos dentro de nosotros la semilla de la iluminación que puede germinar si le damos las condiciones adecuadas.
Los organizadores desean que el regalo de Ildefonso nos sirva de recordatorio de esta semilla que cada uno tenemos dentro, además de ser vehículos para plantar 1.150 árboles.
En esta nueva convocatoria los ponente son: Sister Jayanti and a Emilio Carrillo, y como músicos a María del Mar Fernández, José Carlos Gómez and Julio García. Los posibles beneficios que genere este acto irán íntegramente a financiar el programa Colores de Calcuta. El acto durará hasta las 14 horas y se abrirán las puertas a las 10 de la mañana (venta de entradas a partir de las 9 de la mañana).
Sister Jayanti nos hablará del alma y nos invitará como otras veces ha hecho a que descubramos quiénes somos (un alma inmortal). Emilio Carrillo
nos hablará de la evolución de la consciencia colectiva que está permitiendo a cada vez más y más personas un mayor y más puro nivel de vibración.
Los ponentes y músicos participan sin remuneración ninguna, y los organizadores les agradecen su entrega y generosidad.
Las entradas pueden adquirirse…
–Desde el 17 de julio: Materia Gris, Mejía Lequerica 12, 28004 Madrid. Lunes a viernes de 10 a 14 horas. Por favor llamar antes al 91 445 76 64
–Desde el 25 de julio: Hotel Princesa de Eboli. Pablo Picasso, 10 (junto al CC Princesa de Eboli), 28320 Pinto. Permanentemente en recepción.
–Desde el 2 de septiembre: Pista de hielo La Nevera de Majadahonda. Fresa 14, 28220 Majadahonda. En taquilla de entrada de 10 a 14 horas.
–Desde el 1 de agosto: Centro de Yoga Sivananda Vedanta. Calle Eraso 4 de Madrid, lunes a viernes de 10 a 20:30 y sábados y domingos de 10 a 19:00
–El día del evento, desde las 9:00 am las taquillas del Teatro Nuevo Apolo, Tirso de Molina 1,Madrid