The blind man of Ram Jhula
A la entrada del puente colgante de Ram Jhula, en Rishikesh, según se viene de Muni Ki Reti, había un ciego que cantaba una interminable cantinela, como plegaria en el nombre y con el nombre del dios Ram en cuyo honor el puente se erige. Tenía en la mano derecha una escudilla de metal y en la izquierda un cayado de palo. Escribe Joaquín G. Weil.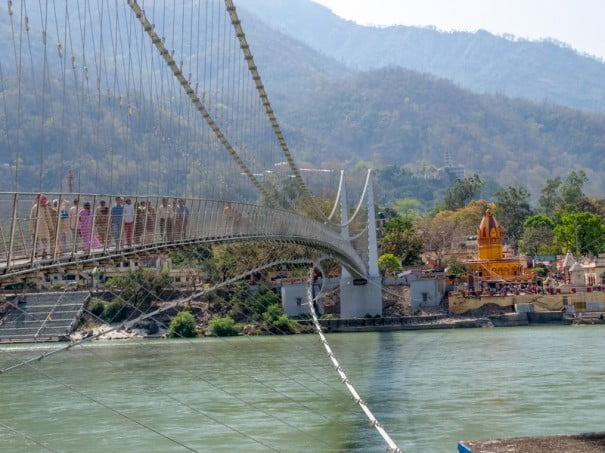 En ese puente estrecho y bamboleante, suspendido por cables de acero, transitan cada día millares de peregrinos, simples viandantes, vacas, monos y, en una fluidez casi inconcebible, incluso bicicletas y motos cargadas de mercaderías. Decenas de metros más abajo, fluye el Ganges crecido con los deshielos o las tormentas del monzón, turbulento y lechoso. Todavía en Rishikesh bajan las aguas con la fuerza glaciar de los Himalayas, que sirven de telón de fondo a la ciudad sagrada.
En la India son tantos los miles o millones de pedigüeños que resulta inexplicable por qué nuestras monedas van a parar a esta o bien a aquella otra mano extendida.
Cuando una moneda cae en la escudilla, una sorpresa casi reverencial cruza el rostro del ciego, que interrumpe por momentos la monocorde cantinela hacia el dios para pronunciar un largo y grave "¡Raaammm!". Le agradece la dádiva a su dios, desde luego no a ti que se la echaste, pues no te ve, tan sólo escuchó el tintineo del metal sobre su mano. Y tú se la diste sin esperar el reconocimiento de una palabra, mirada o gesto.
En ocasiones nuestra generosidad o gratitud tiene ese sentido. Ofrecemos el don o recibimos el benificio como, o desde, parte interpuesta, pero procedente de lo superior y lo sagrado, para quien quiera creer en esas cosas. En Occidente hay mucho descreído, pero estas actitudes escépticas son un lujo que los pobres de la India, pobres, viejos, ciegos y tullidos, no pueden permitirse.
The gratitude es un sentimiento que pretende restablecer, casi de modo imposible un equilibrio que nos supera y sumerge en una corriente transgeneracional de padres y madres en su descendencia, desde su ascendencia, igual como de maestros a discípulos. Es algo mucho más grande que una mera relación de toma y daca de nuestra escala humana. Jamás podremos devolver todos los beneficios recibidos, en moneda de vida, de alegría, de conocimiento, de oportunidades dichosas. Tan sólo nos resulta posible, con humildad, atenernos a nuestro lugar en la escala o sucesión.
A propósito de este asunto, el mudra (o gesto) de ofrecimiento y el de aceptación de dones, es el mismo: palmas extendidas hacia el cielo. (Agarrar o dar es, sin embargo, con la mano hacia abajo). Por eso es importante en Shavasana, la posición con la que debe concluir toda buena sesión de yoga, tendidos boca arriba, también las palmas estén abiertas hacia el cielo, para ofrecer a todos los seres los beneficios de la práctica y para aceptar ese sereno de luz que de continuo cae desde lo alto.
Decía la célebre yoguini Anandamayee Ma que está continuamente lloviendo divinidad. Lo importante es que el cuenco este boca arriba. Tal es nuestra práctica.
Who is

Joaquín García Weil graduated in philosophy, yoga teacher and Yoga room Málaga director. Practice Yoga for 20 years and teaches it since makes eleven. He is a student of Swami Rudradev (leading disciple of Iyengar), with whom he has learned in Yoga Study Center, Rishikesh, India. He has also studied with Dr. Vagish Sastri de Benarés, among other masters.