The practice and meditation, stress
Meditar no es un ejercicio antiestrés. Ni autoexigirte más y más en la práctica te ayuda a encontrar más paz. Gustavo Diex deshace estos malentendidos y nos da la clave para no estresarnos ni autoflagelarnos con la práctica del yoga y la meditación: volver al fuego de donde surgió nuestra motivación.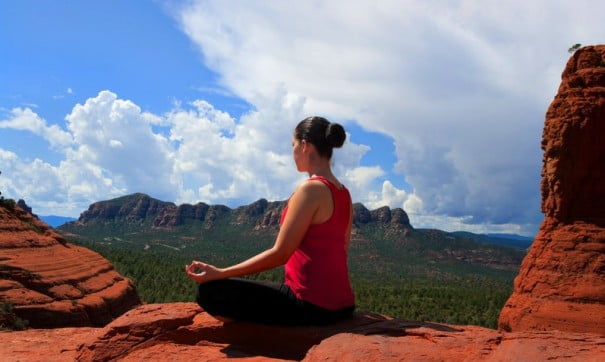 Un estrés normal es bueno, porque nos estimula; incluso un poco más de lo habitual nos hace sentir vivos. Pero dos o tres meses montando en la montaña rusa nos quema. Literalmente, el estrés crónico hace papilla el hipocampo, funde la memoria y desarrolla demencia.
El estrés es la propia energía vital, una chispa que cuando se bloquea por una falta de lucidez sobre el entorno, te quema.
A gran error es querer meditar estresado. Desarrollar una técnica de meditación no significa que tú te relajes: no es una técnica de relajación sino de "darse cuenta". Ese" darte cuenta" te permite ver ese estrés que te va quemando, y en el propio momento que te das cuenta hay un cambio: la energía empleada en el proceso se puede transformar en motivación.
Pero ¿cómo mantener la motivación hacia la práctica del yoga o la meditación en épocas en las que la voluntad flojea? Contesta Gustavo Diex:
Uno tiene que estar siendo consciente siempre de cuál es la intención, la chispa, la fuerza, que le hizo entrar en el camino del yoga o de la práctica de la meditación que sea.
Tener ese contacto es esencial, porque es la fuente de donde se saca el gran fuego, no de otro lado. Ahí, en esa intención, hay un gran sentido de trascendencia, una gran fuerza.
Convendría hacer una toma de conciencia diaria sobre eso, que no nos lleva un minuto. Cuando lo hacemos, nos volvemos a alinear con la intención que nos llevó hasta ahí.
Pensamos que la práctica es meditar dos veces al día o tres. Y -lo digo por experiencia- cuando meditas tres, quieres meditar cuatro, y luego seis, y después no sé qué técnica. Y te metes en una dinámica de conseguir. Y no va por ahí la práctica, no es a base de martillazos.