Vegetarian recipes (tab 16 / protein)
Las fuentes más comunes de proteínas vegetales son las legumbres. Combinadas con los cereales constituyen la base de una dieta vegetariana. Contienen pocas grasas y mucha fibra.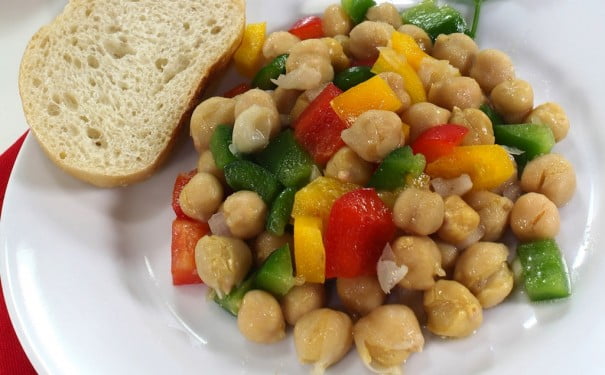 Garbanzos con pimientos
Este plato es recomendable para la comida, ya que si se ingiere en la cena puede dificultar la digestión, que debe ser muy ligera por la noche.
Ingredients:
225 g of soaked chickpeas
3 tablespoons of olive oil
una pizca de cilantro molito
una pizca de jengibre molido
a pinch of freshly grated nutmeg
1 seeded green pepper chopped
1 red bell pepper, seeded chopped
450 g of chopped tomatoes
1 teaspoon salt
¼ de cucharadita de pimienta
Preparation:
Escurrir los garbanzos, ponerlos en una cazuela y cubrirlos con agua fresca. Añadir 1 cucharada de aceite de oliva. Llevar a ebullición, cubrir y cocer a fuego lento 1- 1 ½ horas hasta que los garbanzos estén tiernos. Escurrir y reservar.

Calentar el aceite restante en una cacerola de fondo grueso. Añadir las especias, los pimientos, los tomates y saltear hasta que las hortalizas se ablanden. Incorporar los garbanzos y mezclar bien. Cocer 2 minutos. Salpimentar y servir.
Anacardos con zanahorias
Se sirve acompañado de una ensalada verde.
Ingredients:
250 g de mijo
600 ml de agua
250 g de anacardos
2 cucharadas de aceite
4 zanahorias ralladas
1/2 col blanca finamente picada
4 tallos de apio cortados en juliana
1 cucharada de hierbas variadas
1/2 cucharadita de nuez moscada recién rallada
1 tablespoon tamari
pepper
Preparation:
Poner el mijo en una cacerola con el agua. Cocer a fuego lento durante 30-40 minutos hasta que se ablande. Calentar una sartén sin aceite y tostar los anacardos a fuego rápido unos 5 minutos, hasta que se doren. Reservar. Mientras precalentar el horno a 220 ºC

Calentar el aceite en una cazuela, añadir las hortalizas y saltear a fuego medio unos 15 minutos hasta que se ablanden.

Incorporar el mijo, los anacardos, las hierbas, la nuez moscada, el tamari y la pimienta y mezclar bien. Verter en una fuente de horno de 450 g y hornear 15 minutos.

Dejar enfriar y retirar de la fuente. Cortar en porciones y servir.